County Split over Leslie Johnson's Seat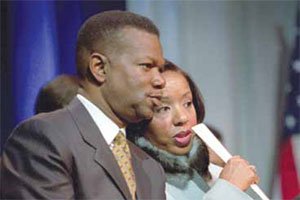 Some Prince Georgians Support Johnson Taking Oath of Office

The newly elected Prince George's County Councilmember who has been caught up in a scandal has the support of many of her constituents to keep her position.

Prince George's County Councilmember-Elect Leslie Johnson (D-District 6) was arrested on Fri., Nov. 12 and has been indicted on charges of evidence tampering and obstruction of justice by the Maryland U.S. Attorney's Office. Despite the charges and the drama surrounding it, many have encouraged Johnson not to step down from her elected position.

"I support her until the facts come out," said Randolph Johnson of Mitchellville, who is not related to either Prince George's County Executive Jack Johnson or Leslie Johnson.

"This is very embarrassing for the county and I really feel sorry for the lady. She is in a very difficult situation."

Johnson, 58, was arrested on Nov. 12 at her Mitchellville home by FBI agents after she allegedly tore up a $100,000 check and flushed it down the toilet, as her husband, Prince George's County Executive Jack Johnson, instructed her to do, according to an affidavit detailing the events leading up to the arrest. The affidavit states that Johnson put $79,600 in cash in her bra, with the encouragement of her husband.

The Johnsons' conversation was being monitored by the FBI. Johnson was charged and released on her own personal recognizance while Jack Johnson, 61, is subject to house confinement with the exception of going to work or to a doctor's appointment.

Randolph Johnson, 83, said that Johnson stepping down is a "difficult question."

"I think they have to find her guilty before they can ask her to resign," he said.

Days after the arrest of the Johnsons, an online petition circulated asking Johnson to resign from the County Council. She will be sworn in to office on Mon., Dec. 6 along with her other colleagues on the council.

Published reports have stated that four present and incoming County Councilmembers --Andrea Harrison (D-District 5), Eric Olson (D-District 2), Mel Franklin (D-District 9) and Mary Lehman (D-District1) -- want Johnson to skip taking the oath of office until her legal problems are solved.

Johnson was elected to the County Council on Tue., Nov. 2 in the general election as a result of defeating a field of candidates in the Democratic Party primary on Tue., Sept. 14. A former administrative law judge in the District, the County Council seat is her first elected office.

District 6 covers central Prince George's County which includes Capitol Heights, District Heights, Forestville, Kettering, Largo, Mitchellville, South Bowie, and Upper Marlboro. The district represents about 90,000 people with a large number of upper and middle income residents and a smattering of working-class people.

The district was represented by Samuel Dean for the past eight years. Dean, 73, is prohibited by law for running for a third consecutive term.

Belinda Queen, a well-known community activist who resides in the Wilburn Estates area of the district said that Johnson should not leave office "because she has not been charged with anything." However, Queen, 48, said Johnson should exercise good judgment at the appropriate time.

"If Leslie Johnson knows in her heart that the best thing to do is to step aside for the good of the residents of District 6 and of Prince George's County, then she should do it," Queen said.

"She made a minor mistake by listening to her husband, but she must follow her own conscience."

Sandy Pruitt, a Mitchellville resident, said that Johnson stepping aside immediately might not be a good thing.

"I would let her go ahead and be sworn in," said Pruitt, who is the leader of the People for Change organization in Mitchellville.

"I think that the incoming county executive administration of Rushern Baker needs a watchdog and someone who can practice oversight over his dealings with developers and Leslie can do that. If you don't have Leslie on the County Council, his supporters will do his bidding without any type of opposition."

Pruitt, 50, readily admits that she did not support Johnson in the Democratic primary, but said that perhaps her ascension to the County Council will keep attention on the dealings of that body.

"I personally believe that people were asleep when they elected her but with all of the attention on her, she and those other County Councilmembers will be watched closely," she said.

Howard University political scientist J. Willmer Leon III said that Johnson should stay on --period.

"She is innocent until proven guilty," Leon, 51, said. "I realize that she is operating under difficult circumstances but we must let the process work itself through. We must let the process run its course and if she is guilty there will be plenty of time to get rid of her."

One of Johnson's former opponents in the Democratic Party primary was Kettering community activist Arthur Turner. Turner, who is the president of the powerful Coalition of Central Prince George's County Community Organizations, said that he would not comment on the [Leslie] Johnson matter except in prayer.

"I am praying for the Johnsons and I am praying for Prince George's County," Turner, 52, said.

Turner said that the recent bad publicity regarding the Johnsons may turn out to work in the best interests of Prince Georgians.

"When the dust settles from all of this, I think we will have a better county," he said.

"People will demand the best from their public officials and a new culture will be created. The culture will demand excellence, expectations will be raised and the bar will be set high for anyone who wants to serve the public in Prince George's County."