Transition Proceeding Well
James Wright | 11/23/2010, 10:07 p.m.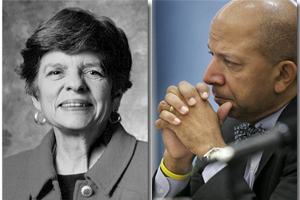 Gray Pleased with Residents, Stakeholders Involvement in Creating One City

The mayor-elect of the District of Columbia says that his transition to power is proceeding as expected and is pleased with the caliber of individuals who are leading the effort.

"Things are going well for us but I have to say that there is a lot of work involved," D.C. Mayor-Elect Vincent Gray told the Informer on Fri. Nov. 19.
"We have committees in place to help us and even those committees have subgroups. We have had a lot of people who wanted to help us in this process."

An unprecedented 1,200 people have volunteered to help out with the transition effort, which is headquartered on the fourth floor of the Reeves Center in Northwest, according to a transition news release. Gray said that he was pleased that so many residents and stakeholders have shown interest in serving on committees and performing tasks such as clerical work at the transition office.

He also noted that many residents have offered to do work electronically to help the transition effort.

"I am extremely pleased that so many people have come on board from all parts of the District of Columbia, and from a variety of sectors of the community, to offer their valuable time, ideas and expertise as we assess priorities, shape policy and implement best practices for the greater good of One City," Gray, 68, said.

Education is a primary focus of the Gray transition and he highlighted its importance in a speech to business and education leaders on Nov. 19 at the National Press Club in Northwest. The education focus of the transition and his administration, Gray said, would be a comprehensive birth-to-24 agenda that would encompass some of the educational reforms that were hotly debated during the Democratic Party primary campaign.

"Universal Pre-kindergarten as well as early childhood education will be a central part of continuing education reform," he said.
"We can solve some of the problems that our children have if we intervene by working early with children who have special needs and those who are at a risk of failure."

Gray said that the leaders of his education team -- Katherine Bradley of the CityBridge Foundation and Michael Lomax, president and chief executive officer of the United Negro College Fund -- buy into the role that early childhood education will play in the coming years.

Former D.C. Mayor Anthony Williams and Brookings Institute scholar and former chairwoman of the Federal Reserve Alice Rivlin are the leaders on matters dealing with the city budget and spending.

Rivlin, in an interview on Channel 5 on Nov. 11, said that her priorities for the Gray transition are to make sure that the city is working on becoming more fiscally sound.

"Tony and I are experienced with D.C. budget matters," said Rivlin, in reference to her stint as head of the city's financial control board in the late 1990s through 2001.

"We are looking at how to operate the city more efficiently. We have to look at improving education but also dealing with more homeless people and people who are jobless without a lot of money."

Rivlin, 79, said that despite the challenges, the city is in good shape.

"The population is growing and there is increased spending for schools," she said. "A lot of good things are happening now."
Overall, Rivlin said that "Gray wants everyone to think of Washington as One City."

Williams, 59, is credited for turning the city around economically during his time in office, 1999-2007. He worked with the financial control board until it ceased to exist in September 2001 and worked to bring economic development projects to all parts of the city.

The choice of Williams and Rivlin to be a part of the transition is a positive for Gray, said political consultant Chuck Thies.
"That is an all-star team he has assembled," Thies, 46, said. "These people understand how government operates because they have had years of expertise and experience as well as deep resumes."

Gray's transition team includes the former president of George Washington University, Stephen Joel Trachtenberg, and the president and chief executive officer of the D.C. Chamber of Commerce, Barbara Lang. Trachtenberg and Lang will lead the committee on economic development.

Reuben Charles, who oversees the daily operations of the transition team, has been in the news as a candidate for Gray's chief of staff. Charles, who raised money for the Gray campaign, has generated controversy over his questionable business dealings in St. Louis and in Illinois.
Gray has said publicly that he has not made a decision on who he will select as his chief of staff.

D.C. Council Chairman-Elect Kwame Brown announced his transition team at a press conference on Mon., Nov. 8. The leader of the team is Gregory McCarthy, the vice president for government and municipal affairs for the Washington Nationals Baseball Club.

Brown, 40, said that his transition team will work to include best practices that should serve District residents well.
"As chairman of the Council, I want to ensure that our agenda is clearly focused in four key areas -- fiscal responsibility, job creation, education reform and government accountability," he said.

"We need to engage the public in the decision-making process of the District government so they share a vision of a city where people want to live, find jobs or open businesses, and raise their children."