Black Friday is a Hit at D.C. Area Malls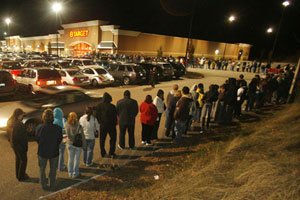 Shoppers Remain Cautious, Search for Deals

Washington area malls were packed with shoppers searching for bargains and deals for the holidays along with those who just wanted to participate in the pandemonium of Black Friday, Nov. 26, the day after Thanksgiving which is considered a boon for retailers.

One of the busiest malls in the D.C. region -- The Fashion Centre at Pentagon City in Arlington, Va., enjoyed a steady stream of eager shoppers prepared to part with their hard earned dollars during the official kick off of the shopping season. Charles Adderly of Northeast arrived at the mall bright and early on Black Friday.


"I am here to go to Macy's and see if the sales that they are supposed to be having are real," Adderly, 60, said. Adderly watched the people walking around the mall frantically going from one store to the next. When he was asked about the struggling economy, he simply shook his head.

"The economy scares me," Adderly, a retired D.C. government worker, said.

"I just don't see a lot of people getting jobs. It looks like some people here in Pentagon City have a small amount of disposable income and they are spending it because you have got to get what you can, when you can."

Black Friday is considered the traditional start of the holiday shopping season in the United States. ShopperTrak, a research firm based in Chicago that monitors sales and traffic at more than 70,000 stores, says Black Friday has been the top sales day every year but one - 2008 --since it started monitoring holiday data in 2002.

Published reports have said that U.S. Federal Reserve Chairman Benjamin Bernanke, according to minutes of a Federal Reserve meeting earlier in the month, has proposed that $600 billion of U.S. Treasury securities be pumped into the economy through the middle of next year and acknowledged that high unemployment will be a problem for quite some time. While the news on the economic front remains gloomy, Jessie Rose of Lynchburg, Va., who was in the area visiting family and shopping at Pentagon City, said that reality must be dealt with.

"Yes, the economy is scary but I am trying to enjoy the holiday season by being thrifty and taking advantage of the specials," Rose, 46, said. "I came here to shop for bargains and to get birthday gifts for my daughter and mother."

Shoppers at The Mall at Prince Georges in Hyattsville, Md., were also busy picking up gifts and stopping in stores to see what sales were available. Addie Sam, a physical therapist in the U.S. Air Force from Valdosta, Ga., said she came to the mall to "have some fun and take care of business."
"I am here to take pictures," Sam, 32, said with a laugh. "I am here to shop too."

Sam said that she doesn't think that the economy is as bad as it appears and is somewhat surprised by the lighter than expected turnout at The Mall.

"The economy being bad is a convenient excuse for some people," she said. "The economy is slowly coming back and I try to be smart with my money. I do not live outside of my means and if I cannot afford to have something, then I think I was not meant to have it."

Riverdale, Md., resident Walter Louis said that the reasons the shoppers are at The Mall are simple: the bargains.

"The economy is bad for some people and that is why I guess people are looking for sales," Louis, 69, said. "I am here relaxing and trying to catch a sale if I can."

Carolyn Keys, a resident of Northwest, said her reason for being at The Mall is not that complicated.

"I needed to get out of the house and do some shopping," Keys, 38, said. She said that the struggling economy is not on her mind.

"I really don't know when the economy is going to get better," she said. "I realize that things are bad but life has to go on. You can't stop living."