Norton Joins Call to Freeze Foreclosures
James Wright | 10/11/2010, 12:32 p.m.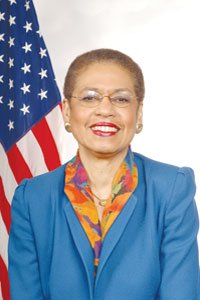 The District of Columbia's congressional representative has called for a halt to foreclosures in the city. D.C. Del. Eleanor Holmes Norton (D) has weighed in on the nationwide controversy regarding bank or mortgage lenders that have filed false or fraudulent foreclosure documents that have caused many Americans to lose their homes. Norton, 73, said that until proper procedures can be put in place to ensure fairness to those who are in the process of foreclosure, the actions should be suspended.

"My office has been flooded with calls from constituents about banks refusing to modify mortgages," Norton said.

"Now we learn that not only are banks refusing to modify mortgages, some are foreclosing on borrowers without proper documentation. We seem to have forgotten that the Troubled Asset Relief Program, or TARP, was designed not only to stabilize the banking sector, but also to help homeowners at risk of foreclosure."

Three of the nation's largest mortgage lenders, J.P. Morgan Chase, Bank of America and Ally Financial, have suspended foreclosures in 23 states, which require a court order to foreclose. RealtyTrac, an online information service that keeps track of foreclosures by state, said that the District had 195 foreclosures in August 2010.

RealtyTrac said that for 2010, there have been 1,735 foreclosure filings in the city. While the District has struggled with foreclosures like many jurisdictions, it is inconsequential compared with its eastern neighbor, Prince George's County, Md. This past August, RealtyTrac reported that Prince George's had 1,298 foreclosures, by far the most of any in Maryland.

The August report is consistent with data that has shown that the county has led the state in foreclosures for nearly two years. Norton's call has been in line with other members of the U.S. Congress. Her colleagues on the Congressional Black Caucus, U.S. Reps. John Conyers and Carolyn Cheeks Kilpatrick, both Democrats representing Detroit, said on Wed., Oct. 6 that foreclosures should be halted in all 50 states.

U.S. House Speaker Nancy Pelosi (D-Calif.), on Tue., Oct. 5, called on the U.S. Department of Justice to look into whether mortgage companies knowingly violated any laws in handling foreclosures. While the Obama administration has not called for a nationwide foreclosure freeze, the president recently vetoed a bill that would have eliminated the need for a notary's seal on documents and allowed them to be notarized electronically.

The bill was sent back to the U.S. Congress and for it to become law; both houses would have to approve the bill with two-thirds approval.
Consumer rights advocates praised Obama's actions, arguing that the bill, if it became a law, would make it difficult for homeowners to challenge foreclosed documents prepared by other states.

In June, Norton sponsored a "Saving Homes, Foreclosure Prevention Day" event where representatives of the U.S. Department of Housing and Urban Development, the U.S. Department of Treasury, 13 mortgage lenders, Fannie Mae and Freddie Mac, which are government-owned entities that deal with housing-as well as HUD-approved counselors, provided personal service to 765 homeowners. The result was that many of the participants received guarantees that their mortgages would be modified so that they could remain in their homes.

However, last month, Norton wrote U.S. Treasury Secretary Timothy Geithner expressing concerns that promises made to her constituents at the "Saving Homes" event to modify their mortgages have not been fulfilled due to "stonewalling" and red tape by lenders. Tony Norman, a D.C. attorney in private practice, said that Norton's call for a foreclosure freeze is right.

"I think there should be a halt in foreclosures for six months," Norman, 46, and a resident of Northwest, said.

Norman has years of experience representing clients on a wide range of housing law cases at the D.C. Superior Court in Northwest. He said that a lot of the foreclosure paperwork was not done properly.

"There are certain procedures that apparently were not followed," he said. "Foreclosures are extremely technical because notices have to be sent out properly at certain times and trustees [banks or mortgage companies] have to execute the foreclosure according to the note and to the law."

Norman said that a long-term strategy is to modify a lot of the mortgages in a way that will keep people in their homes.

"These mortgage companies have to look at the loans and moderate the terms that fit the circumstances of the note-holder," he said.

"They have to look at the affordability of the home as well as the employment status. Ultimately, the goal should not be to put people out of their homes but to make it where the homeowner can continue to afford to live in their home."