Byte Back Bridges the Digital Divide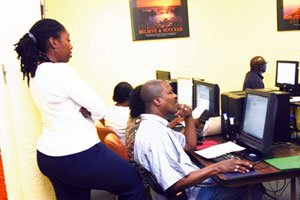 Non-profit Offers Affordable Computer Classes to District Residents

The two-story brick townhouse across from the Brookland Metro Station in Northeast isn't a hospital, but it's responding to a real emergency - it's the headquarters of an organization dedicated to providing a service to thousands of District residents who lack the skills to compete in a tech-savvy society.

The inconspicuous red brick structure, home to Byte Back, a non-profit organization that helps individuals master basic computer skills such as Microsoft Word, Excel and PowerPoint. The organization provides students with classrooms chock full of computer stations and a cadre of professionals on-hand to lead them into the 21st century, one mouse click at a time.



Lowell Dodge, founder of First Time Computers, (right) and Dominic Robinson (left) are surrounded by hundreds of computers that will be refurbished. First Time Computers gives some of their computers to Byte Back graduates. Photo by Paul Ruffins.


"This place is one of D.C.'s hidden neighborhood jewels," said Lloyd Levermore, a student who attends Byte Back classes on Monroe Street in Brookland.

Byte Back was founded in 1997 by Glenn Stein, a self-taught programmer and "computer geek" who believed that the best way to help people was to teach them to help themselves. Today, the non-profit offers computer training courses in 10 locations throughout the city.

"If you go down to the D.C. Department of Employment Services looking for a job, the first thing they will do is tell you to create a user name and password and log into their computer. Imagine how that feels to someone who doesn't even know how to use a mouse," said Debony Heart, 39, Byte Back's director of programs.

To address computer illiteracy in the District, Byte Back offers free and moderately-priced classes that range from PC Beginners -- for those who have never used a computer before -- to more advanced courses that include computer networking and Web design.

"It's not only uneducated people who need computer training. Years ago I earned an MBA, but now that I've been downsized, I've got to catch up on my skills to find a new job," Levermore, 50, said.

The Northwest resident enrolled in Byte Back's MS Office Track class, a comprehensive program which gives students the Microsoft Office word processing, spreadsheet and presentation skills often required by employers. Those who complete the course also receive a free refurbished computer and two years of free wireless internet service.

Levermore's instructor, Delese Harvey, 33, an executive at Wider Opportunities for Women in Northwest understands the myriad challenges associated with computer illiteracy. Like others who teach at Byte Back, Harvey volunteers her time to help students become competitive.

"Most of my students are adults 35 to 50 years old who really want to make a change in their lives. One thing that motivates me to help them is that the class starts at 6 p.m., but many students get here hours earlier to practice," the Hyattsville, Md., resident said.

Marie Kerrick, 41, completed the MS Office Track course this summer. Byte Back offers classes at Southeast Ministry, a faith-based non-profit organization on Martin Luther King, Jr. Avenue and Kerrick signed up immediately. The Southeast resident who currently works as an administrative assistant at the ministry said that the classes brought her up to speed and helped her to improve her computer skills.

"I knew how to get onto the internet and search for jobs, but I didn't know how to get or use an e-mail account. Now I'm using Microsoft Office to manage a mailing list data base at work, and my children can use the home computer to do their homework."

Byte Back's Executive Director, Kelly Ellsworth, 47, said that the organization's expansion is due to an overwhelming need for computer classes.

"In 2008 we served around 350 students. In 2009 it was approximately 500 [students], and last year over 1,000 people took classes at all of our different locations," she said.

One of Byte Back's most important partners is First Time Computers in Northeast, where students learn to fix and repair computer hardware. If a person can prove they are a low-income District resident, First Time Computers will sell them a refurbished Pentium computer with a licensed installation of Windows XP and Microsoft Office for around $60.00.

The non-profit equips Byte Back's Office Track graduates with free computers, and provided all of the equipment for Southeast Ministry's computer lab at no cost. First Time Computers was established in 2003 and has distributed more than 6,000 machines to date.

First Time Computers is the brainchild of Lowell Dodge, an attorney-turned IT provider. He said that he picked the name because, for almost all of the people he serves, it's the first time they've ever owned a computer.

"There are a huge number of law firms, non-profits and schools who want to do something positive with all their old computers when they have to upgrade," Dodge, 64, said.

"On the other hand, there are thousands of low-income folks in D.C., who need a computer as a basic survival tool for the 21st century. We're trying to be the bridge across that incredible need."