District Residents Hit Hard by the Recession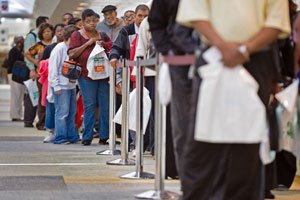 African Americans in the District have been disproportionately hit by the recession but have found ways to survive and even thrive through the tough times. The U.S. Census Bureau released data on Tue., Sept. 28, that showed while the District of Columbia has not been as hard hit by the recession as other cities have, Blacks and children in the District have suffered disproportionately. The data shows that one in three residents who live east of the Anacostia River are living in poverty -- and that comes as no surprise to Glenda Harris.

"My husband and I have lost our jobs," Harris, 49, said while standing outside of the Safeway on Minnesota Avenue in Northeast.

"We used to work for the D.C. public school system, but we were laid-off due to the actions of [D.C. Schools Chancellor] Michelle Rhee. "We are trying to find work, but it is hard," she said.

Harris, who lives near the Safeway, said that she and her husband had to leave their apartment and move into a room in a private home. She said that the recession has forced them to cut back and to cut out some of the things that they used to do.

"We do not shop unless we have to and that is the same with buying clothes and food, we do it when we need to," she said. "We do not go out to eat at restaurants. It is really sad and depressing."

Harris's story has become the norm in parts of the city. Despite the District's reputation as being "recession-proof" because of the strong presence of government jobs, the label no longer applies.

"The phrase that 'D.C. is recession-proof' should be retired," said Ed Lazere and Jenny Reed, the executive director and a policy analyst, respectively, with the D.C. Fiscal Policy Institute in Northeast. Lazere and Reed are quoted in the October 2010 edition of East of the River magazine. The Institute conducts research on tax and budget issues that affect low and moderate-income District residents.

In the article, "Job One for Mayor Gray", Lazere and Reed noted that residents like Glenda Harris are among the 30,000 in the city looking for employment.

They also noted that the employment rate for Black adults had fallen to the second lowest level in 30 years. The Census data reveals that D.C. residents living in poverty -- with incomes below $22,000 for a family of four -- rose from 17.6 percent in 2008 to 18.4 percent in 2009. On the other hand, median household income rose from $56,190 to $59,290, adjusting for inflation to equal 2009 dollars, according to Census data.

However, disturbing Census data reveal that more than one in four children in the city lives in poverty, representing the largest change in poverty rates among any group in the District since the start of the recession in December 2007. In addition, one in four Black residents live below the poverty rate, with an increase of 23 percent in 2007 to 27 percent in 2009.

The Black poverty rate is more than three times the rate for White, non-Hispanic residents and more than two and a half times the poverty rates for Hispanics. The Census data reveals that incomes are falling for D.C. residents with a high school diploma or less. The median earnings for adults with less than a high school diploma fell from $23,300 to $20,400.

Those with a high school diploma or GED also saw a decline in earnings, from $29,000 in 2008 to $26,200 in 2009. Those numbers do not bode well for Yosef Kitwana, a student at Montgomery College-Rockville in Rockville, Md. Kitwana said that he wants to transfer his credits to the University of Maryland, College Park in College Park, Md., but must work a part-time job to make ends meet.

"Things are really tough because my hours were cut at my job," Kitwana, 23, said.

"I have to work to pay my tuition and I am finding that I have to get informal loans from my friends to get by. Plus, I still have student loans breathing down my neck," the Northwest resident said.

Kitwana said that he would like to find an apartment but cannot afford one so he is living with relatives. Michael McCollum works full-time as a fundraiser with a firm in Northwest. McCollum, who is single and a graduate of Archbishop Carroll High School in Northeast, said that the recession has not affected him that much.

"I have noticed that prices have gone up in the grocery store and to go out, but I am fine," McCollum, 37, said. He lives with an elderly relative in Northwest and doesn't have to pay rent.

"I have not had an increase in income on my job but I am okay. The house that I live in is paid-off and my needs are met." Mack James, 55, a manger at a cafe-style restaurant in Northwest, said that he is doing fine even though he recognizes that some are going through economic pain.

"I have five children and three are school-aged and they are still able to do the things that kids do," said James who lives in Columbia Heights in Northwest.

"My wife still does what she wants to. I know that a lot of people are going through a lot but we have not had to reshuffle our lives."

The James family's ability to weather the recession is due to steady employment. In the article, Lazere and Reed, say that unemployment is linked to poverty.

"When people lose their jobs or cannot find a job, they lose their ability to provide for themselves and their family," the authors said. "Tackling D.C.'s unemployment problem also would help tackle D.C.'s poverty problem."

The James family also live in a ward that is not suffering from high unemployment, unlike the Harrises who reside in Ward 7 in Northeast and Southeast Washington. Statistics from the D.C. Department of Employment Services reveal that Ward 7 has a 19 percent unemployment rate, second only to its neighbor to the south, Ward 8 that has a 30 percent unemployment rate.

D.C. Council Chairman Vincent Gray (D), who will likely be the next mayor of the city, said that he is well aware of the Census statistics. "I am not surprised," Gray, 67, and a resident of Southeast's Hillcrest neighborhood, said. "The lack of employment opportunities is hurting some of our residents.

The key to fighting poverty is job training and improving the education system."

Lazere and Reed agree with Gray. The recession may have thrust D.C. unemployment problem into the spotlight, but employment opportunities for many D.C. residents have been dwindling for some time now," the authors said.

"Creating top-notch workforce development programs and connecting residents to jobs that pay decent wages will be Gray's biggest challenge. But it also has the potential to be one of the most beneficial to the District."