Gray Receives Polite Reception at Ward 3 Town Hall Meeting
James Wright | 10/12/2010, 12:10 p.m.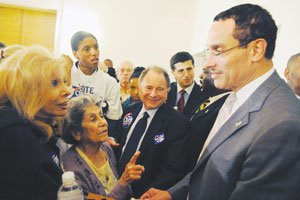 The Democratic Party nominee for mayor of the District of Columbia recently ventured into a part of the city that did not support his candidacy, but was greeted amiably by an overflow crowd. D.C. Council Chairman Vincent Gray, the presumptive mayor-elect of the District, presided over a town hall meeting sponsored by his campaign on Thu., Oct. 7 at the St. Columba's Episcopal Church in the Tenleytown neighborhood of Northwest.

It was the second town hall meeting Gray has scheduled for each of the city's eight wards. During his 25 minute remarks, Gray expressed the need for Washingtonians to come together.

"We may come from different neighborhoods but the city is essentially the same," Gray, 67, said. "We would like to think that we are all together but in reality, we are a city that is divided. We are divided economically, socially and, as some of the polls may indicate, racially."

St. Columba's is located in Ward 3, a majority white ward and the wealthiest in the city. The results of the Sept. 14 Democratic Party primary showed that incumbent D.C. Mayor Adrian Fenty won the ward, 79.41 percent to Gray's 20.33.

Many residents of Ward 3 supported Fenty because they approved of the performance of D.C. Schools Chancellor Michelle Rhee and D.C. Police Chief Cathy Lanier. There are a large number of Ward 3 residents who also link Gray with D.C. Council member Marion Barry (D-Ward 8) and the struggles of the Sharon Pratt Kelly administration.

However, Gray told the gathering of hundreds that he wished to be judged on his own merits.

"Many of you don't know who I am," he said. "I understand that people are not going to vote for you if they do not know who you are. You do not know who Vince Gray is."

Gray's demeanor attracted Cara Ciullo to the meeting.

"I want to get to know Vince Gray better," Ciullo, 42, and a resident of Cleveland Park, said.

"I may like him but it is my job as a citizen to be involved in the city no matter who the mayor is," the non-profit fundraiser, said.

Nonetheless, Fenty die-hards showed up to hear Gray's positions on how he intends to govern the District. Fran Foreman, 67, who lives in Tenleytown sported a green and white "Fenty" sticker on her blouse. She said she wanted to hear what Gray had to say. "I want to hear his perspective," the retired federal government employee, said.


"He will be our new mayor and I want to hear how he is going to make this 'One City'."

Before the town hall meeting, a predominantly Black group of Fenty supporters gathered at the corner of 42nd and Albemarle Streets, N.W., to announce an effort to have Fenty re-elected as a write-in candidate. They held signs that read: "We can be Superman and write-in Fenty" and "Save D.C. Education, Keep Rhee, Write-in Fenty."

The speakers indicated that Washingtonians have a chance to keep the mayor despite the results of the primary.

"It is time to give Fenty a second chance," Ellie Anderson, 77, and a resident of Shepherd Park in Northwest, said.

"I am appealing to 45 percent of the registered Democrats as well as independents and Republicans to darken the oval and write in Fenty's name on Nov. 2."

Lawrence Guyot, a civil rights activist and former Advisory Neighborhood Commissioner in Ward One, said that Gray has divided the city because his campaign has become "associated with hate."

The Write-in Fenty effort is fueled by John Hlinko, a 43-year-old resident of Georgetown, who has used Facebook to connect with like-minded Washingtonians. Fenty has not endorsed the efforts of the write-in and consistently has said that he will support the Democratic Party nominee in the Nov. 2 general election.

D.C. Council member May Cheh (D-Ward 3) defended Gray before her constituents, saying that he was "smart, thoughtful and a leader."

"I can say that Vince Gray is free of vanity and boastfulness," Cheh, 59, said. "Under his leadership, we have had the most productive Council in the history of D.C."

Cheh said that she understood that most of her ward voted "for his opponent" but said that "when you get to know him you will see it was a wise choice."

During his speech, Gray did not specifically address whether he would keep Rhee or Lanier, but did say that education reform and improving public safety would be priorities in his administration. He said that double-digit unemployment in parts of the city is a problem that he will address if elected mayor and bemoaned the fact that only 19 percent of police officers and 12 percent of firefighters lived in the city.

"I believe that if you work in D.C., you should try to live in the city," he said. Gray also received cheers and standing ovations when he declared that the District should be a state and he was willing to go to jail for that.

"I cannot do it alone," he said. "I need to have people behind me."

Gray had some of his Ward 3 supporters in the audience. While the ward is predominantly White, Blacks constitute about 13 percent of the population, according to statistics from the U.S. Census Bureau in 2000.

Mark Downs, a public relations executive who is African American, attended the town hall meeting to hear how his neighbors would react to Gray. "I wanted to hear the blow-back," Downs, 55 and a resident of Friendship Heights, said. "I like what I have seen so far. They have had no major issues with him and I have heard nothing derogatory."

Downs' sentiment resonated with Marc Barnes, a well-known African-American entrepreneur who is known for his entertainment establishments. Barnes, 47, is a resident of Woodley Park. He said that his neighbors have been receptive about the possibility of a Gray administration.

"People are supportive," Barnes said. "They want to be informed on what he is going to do as mayor. Many people are concerned about the state the city is really in."

There were some who were dismissive of the event. Stewart Allen, a resident of Tenleytown, said that Fenty did himself in and "deserved to go" but that Gray was a "politician."

"There is nothing compelling going on here," Allen, 56, said.

"There is nothing going on but a whole lot of talk," the teacher said.

Maureen Cook said that Gray was talking about citywide issues when he should have focused on the ward. "We need for him to talk about what is going on in Ward 3," Cook, 80 and a resident of Ward 4's Chevy Chase neighborhood, said. "He has stacked people at this event from other wards but what we need to know is what he is going to do for Ward 3."

The critics were clearly outnumbered by those who were willing to give Gray a fair shake.

"Overall, I think Gray spoke comprehensively about education and the overall direction of the D.C. schools," Jay Silberman, a former member of the D.C. Board of Education who lives near American University, said. "He has a greater comprehension of the needs of education than his predecessor has."
Silberman, 62, works in commercial real estate.

He recalled that in 2006, he and Gray had a conversation on the day of the Democratic Party primary that year. Gray was running for chairman of the D.C. Council. Silberman said he told Gray that he was "running for the wrong job and should be running for mayor." He credited Gray for his work habits, skills and said that the chairman is "up to the job" as being the city's next mayor.

In a short interview after the event, Gray said that he thought that he did well. "I got a very kind reception and it was a very positive meeting," he said.

Alice Rivlin, a scholar at the Brookings Institute who will serve as a co-chair of Gray's transition team with former D.C. Mayor Anthony Williams, agreed.
"I thought Vince Gray did fine," Rivlin, 79, said. "I think that the people of Ward 3 will come around eventually."