Participation in a Medical Clinical Trial: One Man's Story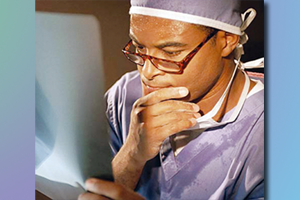 For Marvin Jackson, getting advanced treatment for prostate cancer was a matter of life and death. Jackson (not his real name) was just 52 years old when the sore shoulder he had been nursing for months turned out to be prostate cancer that had metastasized to his bones.

"I really wasn't having any symptoms except for my shoulder, which kept getting more and more sore," he said, describing the pain that eventually got him to visit a doctor. "The doctor and I thought it was a golf injury or at worst arthritis. He was just as surprised as I was."

Like many men his age, Jackson had not been to a doctor in years. Still, at 52, he was considered young for such an advanced stage of the disease. After delivering the wrenching diagnosis of Stage 4 cancer, the doctor told Jackson to seek treatment from a medical facility beyond his southern California suburb.

"He told me not to even consider local treatment," he recalls. "He told me "you need to go to a university or somewhere where advanced treatment is being offered," he even mentioned Atlanta or Texas."

As a father of two, and the breadwinner for his family, Jackson knew traveling out-of-state would be a problem. The doctor ended up referring him to the University of Southern California (USC) Norris Cancer Institute in Los Angeles, some 50 miles from his home. It was at the Cancer Institute that Jackson first learned of clinical trials that he might be eligible to participate.

The first trial he was recommended for did not materialize because it was too painful for him to lie on the machine for a required scan. However, after radiation shrunk the shoulder tumor, he felt much better and was accepted into another trial for a drug designed to prevent bone metastases in prostate and breast cancer patients.

Participation in a clinical trial is often presented as a 'last hope' for patients with advanced disease, however, Dr. Claudia Baquet, Associate Dean and Principal Investigator at the University of Maryland Medical School stresses that there is a difference between clinical research and clinical treatment or care.

"Clinical Care is to treat an individual patient," she says. "A Clinical Research Study, or trial, is to gain knowledge that can be generalized to groups of people."

When Jackson was presented with a clinical trial option he accepted because the risks seemed low and the benefits positive. He says, "On TV you always see cancer patients turning to some experimental drug for their last hope, and usually the drug doesn't save them. However, with a clinical trial you have to make a decision to try to help save multiple lives. Maybe, if you're lucky, it will help you too."

Participation in the trial requires Jackson to make the 100-mile round-trip trek to the Cancer Institute for monthly injections of the drug that is being tested. This is in addition to regular visits to various doctors at the center. For the trial, he must also fill out long questionnaires, undergo scans and blood tests, and be interviewed each time he visits.

He admits that participation in the trial could be hard for most people. "It's normally an all day process at least once a month," he says, adding, "It's easy for me because I'm self-employed and I work from home. I have the advantage of not having to tell a boss or co-workers I'm receiving cancer treatment.

Most employees would have to let their boss know why they need the time off and with the bad economy people don't want to seem expendable. Then there is the transportation issue. Not everyone can easily travel long distances on a regular basis."

Dr. Baquet says economic and travel issues are not the only reasons African-Americans participate in clinical trials in low numbers. Some suffer from too many underlying diseases--such as hypertension and diabetes--that make them ineligible for research. Others distrust the medical establishment and cite past racial abuses, particularly the Tuskegee experiments from the 1940's through the 1960's, where unsuspecting black men were given syphilis against their knowledge.

Still, researchers like Dr. Baquet agree there is a growing need for African-American participation to study new drugs and treatments. There is now an Informed Consent process where U.S. law requires patients be given all necessary details prior to participation.

Jackson feels comfortable he has received all pertinent data on the trial. He knows his study does not involve a 'placebo' or inactive drug. He says he is not sure how much the drug has helped prolong his life. His initial diagnosis was 18 months, but that was three years ago. He is also happy that he is pain free and has not needed chemotherapy.

When asked why he agreed to participate in a clinical trial Jackson summed up his feelings, saying, "to be honest, my initial thought about being in the trial was that I probably wouldn't make it, but this drug might help somebody else. However, I'm still here and feeling great and maybe this drug has helped me."