College and High School Football Report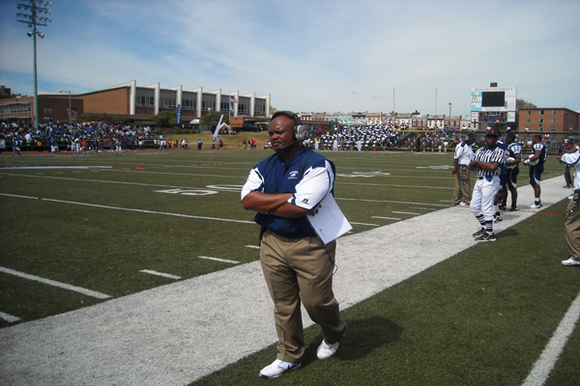 The Howard University Bison celebrate homecoming this weekend and will hosts the Spartans of Norfolk State. The Bison (1-5) are coming off a 52-32 loss to North Carolina A&T. The Spartans (2-5) are led by senior running back 5'10 DeAngleo Branch who ranks second in the MEAC with 699 yards on 155 carries and six touchdowns.

The Bison are led by sophomore running back Charles Brice. The 5'10 190 Brice has rushed for 403 yards on 76 carries and five touchdowns. Wide receiver Willie Carter. The 6'3, 200-pound junior from Denmark, S.C. leads the team with 16 receptions for 282 yards. The kickoff is set for 1pm at Greene Stadium.

In other MEAC contest, undefeated Bethune-Cookman (7-0) hosts North Carolina A&T. Last week they defeated North Carolina Central 23-10.South Carolina State (5-2) travels to Dover to face Delaware State (1-6). Last week Delaware St. loss to Morgan 34-24. Hampton University (5-2) travels across town to face Old Dominion.

Morgan State (3-3) travels to Tallahassee to face the Rattlers of Florida A&M (4-3).

In Division One Football the following teams remain undefeated. Oregon (Pac-10), Boise St. (WAC), Missouri (Big-12), TCU, (Mountain West), Utah (Mountain West), Michigan State (Big Ten), and Auburn (SEC). This week the Ducks of Oregon are the latest number one selected by the coaches poll. The BCS Poll has Auburn as number one via the computer.

In two weeks, TCU travels to Utah in an elimination game in the Mountain West. This weekend Oregon travels to Los Angeles to face the Trojans in their bowl game this season. Due to NCAA sanctions, USC cannot participate in a bowl game this season. Michigan State travels to Iowa State in a Big Ten division game.

In DCIAA action all games start at 7pm. Ballou travels to McKinley, Wilson hosts Dunbar, HD Woodson travels to Eastern, and Cardozo hosts Roosevelt.
On Saturday, Gonzaga hosts DeMatha in a first place WCAC contest, Carroll travels to DeMatha, E. Roosevelt travels to CH Flowers, Bowie hosts Wise, Potomac at Gwynn Park, and Suitland travels to Parkdale. All games are scheduled for 2pm.