A Church East of the River Promises a New Day
D.R. Barnes | 10/27/2010, 8:58 p.m.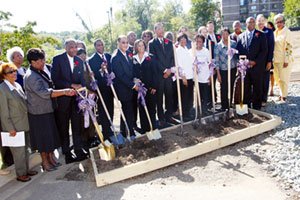 Matthews Memorial Baptist Church Ensures Affordable Housing

A new housing project that's under construction east of the River promises to add a significant number of rental units to an area that boasts the highest concentration of affordable housing in the District.

Matthews Memorial Terrace, a New Communities initiative, in Ward 8, will provide District residents with 99 units of rental housing in Barry Farm - a neighborhood that's in the midst of an economic boon. A ground breaking ceremony on Fri., Oct. 8, ended nearly two decades of wrangling to ensure that the $22.5 million project got off the ground.

"The Matthews Memorial Terrace development along with our Matthews Memorial Baptist Church's Community Service Building is a realization of the church's vision coming to fruition as a part of our blessed community's transformation process," Bishop C. Matthew Hudson told a crowd of more than 150 who showed up for the highly anticipated event.

City officials, community leaders, developers and lenders joined Hudson, the pastor of Matthews Memorial Baptist Church on Martin Luther King Jr. Avenue in Southeast to celebrate their accomplishment. Guests gathered under a tent on the edge of the church's lot where the 79,000 square-foot development will be built adjacent to Matthews Memorial at 2634 Martin Luther King Jr. Avenue.

"This vision that was given to the church is a divinely inspired portrait of possibilities fueled by God's power, for God's purpose, through God's people, for God's glory," Hudson said.

The new development will include 32 units dedicated to senior housing. Thirty-four units of multi-family and individual public housing have been planned for residents displaced by the Barry Farms redevelopment; and 33 units of affordable housing for individuals and families who earn 60 percent below the area median income.

The new development in Southeast promises to bring housing and jobs to Ward 8 residents, and it also supports the city's Green Communities and Great Streets initiatives. D.C. Council members also shared their sentiments during the event.

"Our people need housing and jobs," said Ward 8 Council member Marion Barry.

"But most importantly, they need hope ... and that's what this project means - hope. Without God's intervention in this project, none of us would be here today," Barry, 74 said.

Council member Kwame Brown (D-At-Large) told the crowd that he was a student at Woodrow Wilson High School in Northwest when members of Matthews Memorial Baptist Church initially embarked upon this project.

"Some seniors knew [that] they might never see the project's completion, but they gave what they could because they believed in God. I was in high school when they were on their knees praying about this building," Brown, 39, said. Financing for the $22.5 million project will come in part from debt and equity investments purchased by Capital One Bank and other District agencies and initiatives.

Hudson said finding a bank to support the project was difficult because "they could not wrap their hands around investing east of the river."
One lending institution stepped up.

"I thank God for [Capital One] investing in us."

Edmond Delany, of Capital One Bank commended Hudson for his extraordinary leadership and for bringing all of the partners together in a spirit of collaboration.

"On the fifth or sixth day of closing, in a room full of lawyers focusing on the minute details, [Hudson] reminded us why we were here; why we needed to complete this project and what it would mean to this community ... We got it done. It was a team effort," Delaney said.