Choosing Your Future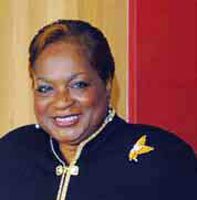 Lyndia Grant

This week's column will focus on the importance of making choices and allowing God to help us to "Choose our Future." Ask yourself, "Have I done all that I can do?" How many of us can say without hesitation, "No, I have not done all that I can do." Raise your hands. All of us would raise our hands, if we're perfectly honest with ourselves.

Every person who has become a doctor had to make a decision - a critical choice; they had to "Choose Their Future" by deciding," I'm going to become a doctor" or "I'm going to become a nurse" - "I'm going to become a pilot" - "I'm going to enter the military" - "I plan to retire as a high ranking officer"; or "I'm going to become an educator."
In each situation, a choice had to be made with regard to what career path they intended to pursue and successfully complete. Should they decide to become a doctor, there are very stringent requirement that must be met. For example, someone wanting to become a doctor must excel in the sciences, just barely passing is not acceptable, they must do well in college, they must then go on to medical school, and finally, they must complete an internship; followed by a rigorous residency before they become a full-fledged physician with an MD designation.

Proverbs 3:5-7 says: "Trust in the Lord with all your heart and mind and lean not to your own understanding. In all your ways know, acknowledge Him, and He will direct your path. Be not wise in your own eyes."

Put your trust in God, you will never be brought to shame and you will never be disappointed. You will also be able to enjoy your life, while God solves your problems.

Most people operate within the framework or vision that they have of themselves. But you must know that God has a plan for you, from the moment you were formed in your mother's womb. Get a better vision of yourself, and begin by seeing yourself as worthy of achieving your goals in life.

Take a look at your life and as you ponder, think about something that you would like to achieve or obtain - whether it's for your family, or for society at-large - pray, study your word and thank God for working in your life. He will give you the desires of your heart. Don't worry about the inner conversation (that incessant chatter) about how it will get done. With God in your plan, you can trust that it will be the right choice. God will attract the resources that you need.

That inner conversation will say, "You can't do that." How many of us have thought about something that we wanted to do, and talked ourselves out of it? Again, please raise your hands.

The wealthiest places on the planet are not gold or diamond mines; they're not even oil fields -- the wealthiest places on earth are grave yards. Think about the inventions that we were never exposed to, hopes and aspirations that were never acted upon.

It was that internal conversation - that non-stop chatter -- that kept the dearly departed from seeking their goals in life. It was their lack of knowledge that stopped many of them, they didn't know how or where to begin. So keep learning! The scripture reminds us, "My people perish for the lack of knowledge."
Playwright George Bernard Shaw once said; "I dread success.

To have succeeded is to have finished one's business on earth, like the male spider, who is killed by the female the moment he has succeeded in his courtship. I like a state of continual becoming, with a goal in front and not behind." I encourage you to continue to learn, and never stop choosing your future.

Visit the website of Lyndia Grant at www.lyndiagrant.com, send comments to lyndiagrant@lyndiagrant.com, or call 202-518-3192.