Maryland Governor's Race Could Depend on Turnout
Carla Peay | 10/27/2010, 10:19 a.m.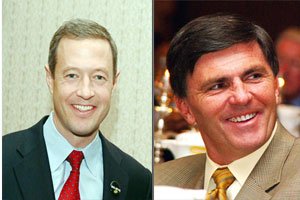 Shifting Poll Numbers Show O'Malley's lead growing over Ehrlich

To some residents in Prince George's County, voting in next week's General Election is a top priority. JoAnne Lewis, 56, of Fort Washington, plans to take advantage of early voting, and says she will cast her vote before Tuesday, Nov. 2. Smith lost her full time job more than a year ago and said she is barely getting by on a part time salary, and spends every minute she can looking for full time work.

To her, the election is about economic recovery, job growth and the foreclosure prevention.

"I am going to vote for the candidate I think can turn the state around and get us back to work. We have high foreclosures, we have people losing their homes; we have people like me who can't find jobs. I am tired of all these commercials where they talk bad about each other. It's a turnoff. I just want to hear them tell me how they are going to turn the economy around and create jobs."
The candidates are Democratic incumbent Martin O'Malley and former Republican governor Bob Ehrlich, whom O'Malley defeated in 2006. A recent Washington Post poll had O'Malley up by 11 points as recently as two weeks before the election, but daily tracking polls are showing mixed results. Some recent polls show O'Malley's lead to be as few as six points; in others the gap is as wide as 14 points.

The Maryland governor's race has captured the attention of Democratic Political heavyweights; both President Barack Obama and former President Bill Clinton have stumped for O'Malley in recent weeks.

O'Malley, 47, served as the Mayor of Baltimore before defeating Ehrlich for governor in 2006. O'Malley attended the Catholic University of America and the University of Maryland Law School in Baltimore. He served on the Baltimore City Council and as Assistant State's Attorney before becoming Mayor.

"We believe in a Country where we look after one another; where we say 'I am my brother's keeper, I am my sister's keeper. That's the America I know. That's the America Martin [O'Malley] cares about. That's the choice in this election. We are not just going to win this election, we are going to make sure that the American Dream is alive and well for future generations," Obama said while campaigning for O'Malley at Bowie State University.

Obama has been actively campaigning across the nation in "Get out the Vote" rallies, as low voter turnout often plagues elections in non-presidential, or mid-term, election years. In Prince George's County, the Primary Election turnout was estimated at around 20 percent. Low voter turnout is expected to hurt the O'Malley campaign and increase Ehrlich's chances to return to the governor's office.

Former Maryland Governor Robert Ehrlich. Photo by Maurice Fitzgerald.

Ehrlich, 53, was a member of the Maryland House of Delegates and served in Congress representing the 2nd Congressional District prior to being elected governor in 2002. Ehrlich was the only incumbent governor to be defeated in 2006 when he lost to O'Malley.

A graduate of Princeton and Wake Forest law school, one of his most controversial positions was his support of slot machines, which he claimed would offset the need to raise sales and income taxes. During his tenure, he enacted the Chesapeake Bay Restoration Act, which resulted in decreasing water pollution and ended the moratorium on state executions. Ehrlich has been working for a law firm in Baltimore since losing his re-election bid to O'Malley, leading to criticism that he is controlled by special interests.

Ehrlich has been endorsed by both the Washington Examiner and the Prince George's County Gazette. The Examiner states that "Voters should return Ehrlich to Annapolis to end this nonsense," referring to O'Malley's 2007 tax increase and close ties to unions. The Gazette states that "Ehrlich is better prepared to deal with the state's challenges."

O'Malley has the support of the majority of elected - and mostly Democratic - officials in Maryland.

"I think it will be really damaging for Prince George's County if Bob Ehrlich wins. He's promised to cut school funding for Prince George's County by millions of dollars. He's not going to fund the geographic cost of education index and that's going to be a big, big blow to the kids in Prince George's County. I think it would be really devastating if Bob Ehrlich won," said Mel Franklin, Democratic nominee for Prince George's County Council in District 9. Franklin, who has no Republican challenger in the General election, is a strong O'Malley supporter.

"Governor O'Malley has been a friend to Prince George's County, he's committed hundreds of millions of dollars in school construction funding, and he's been a strong, strong supporter of us [Prince George's County] during this budget crisis. We've seen in the County property values collapse and at the same time, the state has helped fill in a lot of the gaps," Franklin said.

"That's what O'Malley has done for us and I think we should in turn re-elect him."