eBooks Come of Age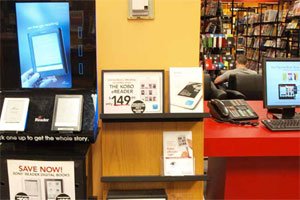 Paperless Books and Reading Devices Find New Niche, New Market

Chemise Levy did her best to resist coming of age. A self-described book lover, Levy boasts a collection of more than 300 tomes, all of which are crammed inside the nooks and crannies of her upper Northwest studio apartment.

In the same manner in which wax records and VHS cassette lovers were forced to accept downloaded digital materials, Levy, 39, is being initiated into a new era of digital books.

In 2007, with the development of the Amazon Kindle - a flat, lit screen that holds digitally downloaded books, magazines, and newspaper - a revolution in e-literature -- was born and captured the imagination of a new generation. The original Kindle was sold exclusively by on-line retailer Amazon.com, and the device weighed-in at a mere 10.3 ounces.

When less than a pound of hardware can hold the full text of up to 3,500 books, even book aficionados are forced to take notice. But, Amazon Kindle isn't alone; it's joined in the marketplace by Amazon's eReader, and several others that include the Borders Kobo, the Barnes & Noble Nook, and the Sony Reader.

"My home is so overrun with books that a friend loaned me his Nook to keep me from loseBooks Come of Age Paperless Books and Reading Devices Find New Niche, New Market ing his book in my mound of books. In short, I fell in love with it. I still miss the smell of the paper and being able to mark up my margins in different colored highlighters, but I am pretty much convinced," Levy said.

One great selling point for eBooks is that the latest technology is being married to functionality and access to texts. An entire book is downloaded onto the eReader and the device allows those who enjoy flipping through pages to either push a button to move to the next page or turn the page using a touch screen mechanism. While the novelty of the technology originally scared off some buyers, several college students at a local Borders Book store in the District explained that the advances
simply had to be taken into consideration.

"It's like when you buy an MP3 and think you have got just the greatest thing, until six months later, enhancements have been made to the product that make your [MP3] old-school and you have to get another one. Well, this is the same thing in some ways, but it's worth the money because so many books are given to you for free," Derrick Govan, 19 said.

Govan said that his Nook from Borders cost about $40 less than the Amazon Kindle and came pre-loaded with 100 free classic titles. As a student at the University of Maryland, Govan said that was an offer that he simply could not resist.

"Some of the [eReaders] cost as much as $300, but when you factor in the number of free books [that] you get, as well as the cheaper price for eBooks, it's worth it," Govan said.

His numbers are oddly precise.

A new paperback title hot off the presses would average $29.99, but an eBook would cost roughly $9.

"Downloading is immediate, saving the time and energy of going into a bookstore and the titles are guaranteed to be there. It's the wave of the future," Brianna Hooks, 20 said.

Hooks, like Levy, did not trust eBooks when they first hit the market, but she has since found the ease of her Kobo eReader to be indispensable.

"When you are in school, you have the option of buying books from campus bookstores, buying them new online for a bit cheaper, used online for a deeper discount, or buying them as electronic editions for cheaper still," she said.

"My reader is only about eight ounces and all of my textbooks for the last year are on it. I am carrying my entire load of course books in my purse," Hooks exclaimed.

But even as younger book lovers move headfirst into eBooks and eReaders, concerns have started to mount over issues of copyright infringements, the perceived demise of libraries and bookstores, and the loss of yet another social staple. Bella Calbert-Cole, a retired librarian believes that there are book
lovers who will mourn the loss of worn, yellow parchment and the new digital book revolution -- she predicts that they will straddle the fence between paper and electronic books as long as possible.

"This is a form of social death," Calbert-Cole, 58 said. "How do you read your grandchildren bedtime stories from a piece of hard metal? I guess you really can't take technology to heart and become emotional about it. Suffice it to say, there will be many titles that I will keep on my bookshelves and there will be newer and more frivolous titles that I will experiment with on these eReaders," she said.

But in the end, Calbert-Cole said that she "supports anything that will keep our young people excited about reading."