Redskins Face Uncertainty as Regular Season Approaches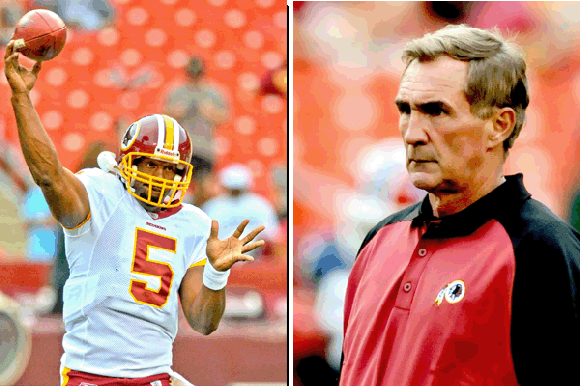 After a 2-2 preseason record, the Washington Redskins enter the 2010 regular season with more questions than answers. Among them:

Will new quarterback Donovan McNabb play in the season-opener against the arch-rival Dallas Cowboys? And if he does, will McNabb be able to last a full season?

Will the offensive line (featuring top draft pick Trent Williams) jell well enough to protect McNabb for a full season?

Will defensive lineman Albert Haynesworth be a significant piece of the Redskins defense after having what team sources called an "awful" performance in the last preseason game?

Those questions and many others persist as Head Coach Mike Shanahan finalized his first 53-man Redskins roster last week. Among the notable names cut were offensive lineman Chad Rinehart and cornerback Justin Tryon. Four of the six players selected in the 2010 draft were either cut or traded.

In a move surprising to some, Shanahan decided to keep wide receivers Devin Thomas and Brandon Banks. Some experts thought Banks, an undrafted free agent, was in danger of being cut because, although he ran a punt return back for 77 yards and a touchdown in the first preseason game against the Buffalo Bills, he also fumbled three punts during the preseason.

Thomas, a second-round draft pick in 2008, has also struggled, but after fellow wide receiver and 2008 second-round pick Malcolm Kelly was put on injured reserve with a hamstring injury, the spot became open.

The Redskins will go with three quarterbacks to start the season; McNabb, Rex Grossman and former Baltimore Raven John Beck. Richard Bartel was cut from the team. Running back and former Pittsburgh Steeler Willie Parker was also cut, leaving Clinton Portis and Larry Johnson to shoulder the load on the ground.

The Redskins will renew one of the NFL's fiercest rivalries on Sunday night at FedEx Field facing a Cowboys team that made some interesting roster moves of their own. Dallas traded wide receiver Patrick Crayton to San Diego for a sixth-round draft pick and offensive lineman Pat McQuistan to Miami for an undisclosed draft pick in 2011.

The Cowboys also surprised some observers by cutting cornerback Cletis Gordon, who had what many considered an outstanding camp.