Ward 7 Seniors Vote Early for Mayoral Candidate Vincent Gray
WI Staff | 9/8/2010, 6:31 p.m.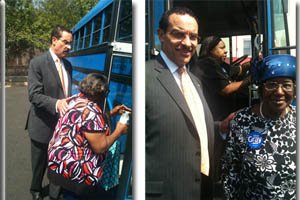 Residents of the Allen House Senior Apartments in Northeast Washington boarded buses and vans on Thursday to cast their ballots for Mayoral candidate Vincent Gray residents in early voting. An Allen House spokesperson told us that Mayor Adrian Fenty sent a bus a couple of days earlier to take the seniors to the polls but there were no takers.

Gray is leading Mayor Fenty in the polls by as much as 17 percentage points among likely voters as they race towards the September 14th election day deadline. Gray told the seniors that they can't rely on the polls. He said, "we have to get our people to the polls. We're not taking any chances."

Allen House Senior Apartment residents thanked Gray for coming to listen to their concerns. They say that Mayor Fenty only sent a representative. Irma Walker is a longtime resident of Allen House. She told Chairman Gray that she, like the rest of the seniors in the house, has great safety concerns. Walker says she was just recently, almost hit by a car in front of the senior's residence on Minnesota Ave NE. She said, "the guy yelled back at me that I should walk faster and I told him that I'll let God take care of him."

Chairman Gray told Ms. Walker that he will get a VDOT person there. He said, "the flashing crossing light may not be enough to slow the fast moving traffic on Minnesota Ave."

Approximately 30 seniors took advantage of the free transportation and early voting opportunity.