Jack Johnson Endorses Michael Jackson
Carla Peay | 9/10/2010, 9:23 p.m.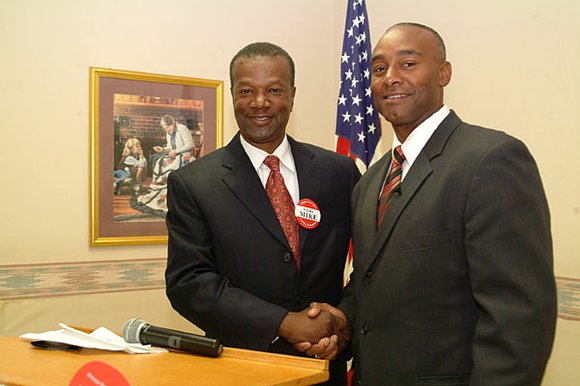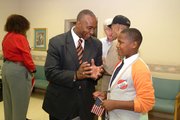 Candidate for Prince George's County Executive, Michael Jackson, speaks to Princeton Nwoke, 12, of Bowie, Maryland after current County Executive Jack Johnson endorsed him for County Executive in Clinton, Maryland. Photo by Maurice Fitzgerald


With just two days before the Election Day Primary, Prince George's County Executive Jack Johnson endorsed Sheriff Michael Jackson as his successor. The announcement was made on Sunday, September 12at the Branchwood Towers Seniors Complex in Clinton.

"As I leave the position of County Executive, I think about the person who will replace me. It has to be a person with integrity and with demonstrated leadership. It has to be someone who cannot be bought, and who is not tied to the special interests of people who do not live here [in Prince George's County]. Standing head and shoulders above the others is Michael Jackson," Johnson said.

Jackson is running for County Executive against former Delegate Rushern Baker, District 6 County Councilman Sam Dean, Delegate Gerron Levi and businessman Henry Turner. Jackson and Baker are considered to be the frontrunners in the race. Baker also ran against Johnson in the two previous races for County Executive.

Both Jackson and Johnson are frequent visitors to Branchwood Towers, and expressed their desire to talk directly with members of the senior population in the County. Jackson also has a relative who is a resident.

"He [Jackson] is the only candidate in this race who was born and raised in the County and who has run a complex agency," Johnson said. Johnson spoke to the difficulties of the Office of the Sheriff; of serving warrants, entering homes to evict citizens and facing the unknown.

"It is easy for outsiders to criticize and second guess his performance, but he has done a magnificent job," Johnson said. The County's Domestic Violence Program has been widely praised as one of the best in the nation.

"We must look toward our future. If we want to maintain what we have achieved and head in the right direction, we must elect Michael Jackson," Johnson said.

After Johnson's introduction, Jackson addressed the crowd and talked about his upbringing, his education and his long career of service in Prince George's County.

"We have talent, we have resources and some of the brightest minds right here in Prince George's County. What we need is a leader who is focused on what is best for us. We have to build our communities and protect our interests," Jackson said.

Jackson, who commemorated his 21st year in the Sheriff's Department on September 11, also took a moment to remember the tragedy of the September 11 attacks and the importance of honoring those who lost their lives nine years ago.

"For the past eight years as your Sheriff, I have addressed the social ills that plague our community. I am here today to let you know that it is vital to protect your interests," Jackson said.

Jackson stressed the three "E's" that will take precedence in his administration: Education, Economic Development, and Alternative Energy.

"We have gone from a rural to a suburban lifestyle. Now, we are moving from a suburban to an urban lifestyle. We must create an economic base around our 15 Metro stations, and continue to move our county forward."

Maryland began early voting on Sept. 3, but Jackson took a moment to remind those who did not participate in early voting to go to the polls on Sept. 14.

Prince George's County Executive Jack Johnson and Sheriff Michael Jackson, Candidate for County Executive, meet and greet senior citizens after Johnson's endorsement announcement in Clinton, Maryland. Photo by Maurice Fitzgerald.


"You [seniors] led the charge so that we can vote; so that people like me can run for office," Jackson said.

Jackson said he was "humbled and ecstatic" by Johnson's endorsement, while Johnson added that he would be "proud" to live in a County led by Michael Jackson.

Both men spoke with members of the crowd after the announcement, including Angela Wilson, a senior resident of Branchwood Towers who supports Jackson.

"I like what he stands for. He cares about the people. He did a wonderful job as Sheriff," said Wilson, who worked in law enforcement before her retirement.

"It's not easy what he does; I know. But he takes the time to listen to the people. He has compassion and love for the people of this County," Wilson said.

"You have to have a person like that as your leader."