S.M.A.R.T. Moves for Success
WI Staff | 9/10/2010, 9:05 p.m.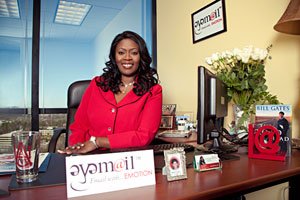 In the midst of current news stories like the firing of U.S. Department of Agriculture's Shirley Sherrod, the controversial Arizona immigration law, the proposed building of a mosque near Ground Zero in NY, it is clear that, when it comes to diversity, America still has a long way to go.

On October 7, at the Omni Shoreham Hotel in Washington, DC, S.M.A.R.T. Moves2010, will address these issues, along with providing jobs; saluting America's active duty service members, veterans; matching minority-, women-, veteran- and disabled veteran-owned businesses (M/W/V/DAVBEs) with the financial resources necessary to successfully compete in today's marketplace; and encouraging urban youth.

S.M.A.R.T. Moves2010 features: a free Diversity Military-Friendly Job Fair, with companies and agencies such as Hewlett Packard, Raytheon, Lockheed

CEO, Dr. Roosevelt Thomas, is considered one of the pre-eminent authorities on diversity in the US. Courtesy Photo
Martin, SAIC, Department of Justice; hands on business sessions by the Small Business Administration; "Provision for the Vision" (MBE Capital Connect); and "Why Diversity Efforts Fail" (RTCT, Inc. a company whose CEO, Dr. Roosevelt Thomas, is considered one of the pre-eminent authorities on diversity in the US.); and youth events.

A limited number of registrants for the RTCT session, "Why Diversity Efforts Fail," will receive a free autographed copy of Dr. Thomas' new book, World Class Diversity Management: A Strategic Approach.

An Awards Gala will celebrate those who best champion opportunities for diversity in the military and private sectors. Lisa S. Jones, Founder and CEO of EyeMail Inc., (www.eyemailinc.com) will receive the prestigious 2010 Madame C.J. Walker Award for Outstanding Business Achievement.

Mrs. Vicki Perez will receive an award for her tireless efforts on behalf of the Emily J. T. Perez Foundation. Established by Daniel and Vicki Perez, the non-profit Foundation carries out the legacy of their daughter, Second Lieutenant Emily J. T. Perez, a 2005 West Point graduate, who was killed in Al Kifl, Iraq on September 12, 2006 during combat operations.

The Emily J. T. Perez Foundation preserves the faith, life and legacy of their daughter through the lives of young girls and women by aiding and empowering them to reach their fullest potential intellectually, socially and professionally through a scholarship and mentoring program.

A portion of the S.M.A.R.T. Moves2010proceeds will benefit The Emily J.T. Perez Foundation, Inc. For more information, visit: http://smartmoves2010.eventbrite.com, or www.mwib.com, or call (toll-free) 1-866-542-1387 (ext. 1).