Redskins Hold Off Cowboys, 13-7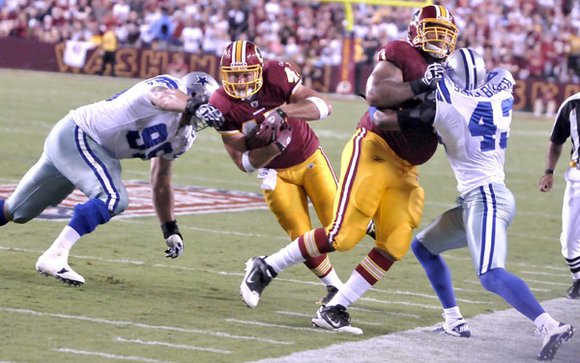 In what Redskins Head Coach Mike Shanahan called "a great team win," The Washington Redskins hung on to defeat the arch-rival Dallas Cowboys 13-7 in front of 90,670 screaming fans and a nationally-televised audience at FedEx Field. The crowd was the largest for a season home opener in team history and the fourth-largest crowd in stadium history.

The crowd was also, according to Shanahan, a big factor in the team's victory. "The crowd was huge," Shanahan said. "We know the Cowboys had a tough time with their snap counts and that was definitely because of the fans. They were great."

The Redskins offense was anemic on this evening, getting just two field goals from placekicker Graham Gano. However, the defense and special teams took up the slack, making numerous plays and managing the only points for the Redskins.

The big play came late in the first half when Cowboys running back Tashard Choice fumbled the football. Redskins defensive back DeAngelo Hall picked the ball up and scampered 32 yards into the end zone to give the team a 10-0 lead at the half.

Along with the two Gano field goals, the Redskins got a key play in the game from their special teams in the first half when Byron Westbrook downed a Josh Bidwell punt at the Cowboys one-yard line. The Cowboys could not move the ball on the ensuing offensive sequence.
"We use special drills in practice for that play," Westbrook said. "We have the make sure the ball and our feet stay out of the end zone. We work on that play a lot."

The Cowboys didn't help their cause with 12 penalties in the game. This included a holding penalty by offensive lineman Alex Barron that nullified a Tony Romo to Roy Williams touchdown pass with one second remaining in the contest that would have given the Cowboys a come-from-behind win.

The Redskins remain at home to play the other Texas-based team, the Houston Texans. The Texans defeated the Indianapolis Colts 34-24 in their home opener. Houston running back Arian Foster led the way for the Texans, rushing for a team-record 231 yards and three touchdowns. The game begins at 4:05.
Redskins running back Clinton Portis runs off tackle for one of the few positive gains the offense had all evening. Photo by John E.DeFreitas.