Baker Defeats Jackson for Prince George's County Executive
Carla Peay | 9/15/2010, 2:13 a.m.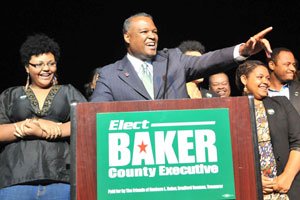 Clearly, the third time was the charm for Rushern Baker, as he defeated leading challenger, Sheriff Michael Jackson to become Prince George's County Executive. Baker ran for County Executive two times previously, both against incumbent Jack Johnson.

On Tuesday, September 14 in the Primary Election, Baker had a solid lead over Jackson for most of the evening. By Wednesday morning, with 89% of precincts reporting in, Baker led wih 44 percent of the vote to Jackson's 33 percent.

"The people have spoken. It's time to make a good county great," Baker said to a crowd of supporters at the Crazy Horse Saloon at Six Flags in Mitchellville.

Baker opened his remarks by telling the crowd that "there's a resounding chorus of renewal and reform tonight."

Echoing his campaign promises, Baker pledged to make Prince George's County "first in education, first in job creation, first in opportunity, first in innovation, first in integrity and first in public safety."

"And so tonight, it begins. The journey begins because what we seek here is not merely political victory. Our goal is to make Prince George's County great."

Baker's statement came with just under 40 percent of the precincts reporting in, at which point Baker led with 43 percent of the vote to Jackson's 31 percent.

Baker received numerous endorsements for County Executive, including State's Attorney Glenn Ivey, former County Executive and Maryland Governor Parris Glendenning, and former County Executive Wayne Curry. Current County Executive Jack Johnson endorsed Jackson just two days prior to the Primary Election.

Baker, 51, was a Member of the House of Delegates from 1994 until 2003. Baker is currently the Executive Director of the Community Teachers Institute (CTI), an organization that trains teachers. Baker described the mission of CTI as one which "focuses on community teaching, which goes out and identifies and trains teachers to teach to the individual child."

As County Executive, one of Baker's pledges was that he would not furlough either teachers or Public Safety workers.

Prince George's County is considered one of the nation's most affluent African American counties and Baker has stated he plans to see that legacy continue. Baker is a strong proponent of improving the County's commercial tax base, as the County is still primarily dependent upon property taxes for revenue.

Among the challenges Baker will face when he assumes office is a school system that consistently ranks 23 or 24 out of 24 school systems across the state in terms of low test scores, and competes with Baltimore City for the highest foreclosure rate in the state.

Also in the race were outgoing District 6 County Councilman Sam Dean, Delegate Gerron Levi, and businessman Henry Turner. By Wednesday morning, Dean had garnered 13 percent of the votes, Levi 7 percent, and Turner 4 percent.

Making the rounds on Election Night was Maryland Lt. Gov. Anthony Brown, who put in an appearance at both the Jackson and the Baker headquarters.

"Governor [Martin] O'Malley and I are looking forward to working with the next County Executive," said Brown, who is from Prince George's County.

"Whatever the outcome, we know our next County Executive will reflect the best leadership this County has to offer."

Tamara Cooke Henry contributed to this story.