Black General Manager Excels at Downtown Hotel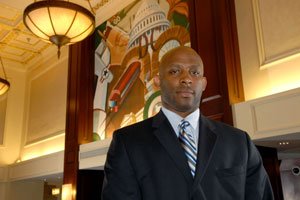 Thomas Penny III runs the Courtyard by Marriott Convention Center hotel, which is close to the Verizon Center and the bustling Chinatown community in Northwest. Courtesy Photo

Thomas Penny III is the general manager of the Courtyard by Marriott Convention Center in Northwest and one of the few African Americans in charge of a prominent hotel in the D.C. metropolitan area. Penny, 35, said that the position has elevated his stature.

"In Washington, there are 92-plus hotels and there are only six Black general managers," Penny said. "The industry is still predominantly White male but is wide open for people of color."
The Courtyard by Marriott Convention Center is co-owned by the Donohoe Hospitality Services, LLC and The Peebles Corporation, of which D.C. native and multi-millionaire real estate investor and developer, R. Donahue Peebles is the founder and chief executive officer. Peebles said that hiring Penny has made a significant difference.

"I have to give credit to my partners at Donohoe for identifying talented individuals who have a deep commitment to the city and who know Washington, D.C. well," Peebles, 50, of Northwest, said. "I wanted a general manager who would make it one of the best performing hotels in the Marriott chain, of which it is. Thomas is a man who is committed to excellence and he is a transformational leader who believes in the team concept."

Peebles was listed in the May 2009 edition of Forbes magazine as one of the wealthiest Blacks in the United States. His company, the Peebles Corporation, is considered the country's largest African-American real estate development and ownership company with a multi-billion dollar development portfolio that includes luxury hotels, high-rise residential and Class A commercial properties in the District, Las Vegas and Miami Beach, Fla.

The Courtyard by Marriott Convention Center is co-owned by the Donohoe Hospitality Services, LLC and The Peebles Corporation, of which D.C. native and multi-millionaire real estate investor and developer, R. Donahue Peebles is the founder and chief executive officer.
Peebles said that Penny is an example of what African Americans can do in the hospitality industry if given a chance.

"There are limitless opportunities for advancement for people like Thomas but that was not always the case until recently," Peebles said. "Advancement to the upper-management level in hospitality was not readily available and it was until a few years ago, the only Black owners of major hotels were me and Bob Johnson [founder of BET]. But those doors are coming open."

The hospitality/tourism industry is the second largest sector of employment for District residents, next to government. D.C. Destination, a private, non-profit organization that seeks to present the District as a viable global market, published statistics in 2008 that indicated the District's travel and tourism sector supported more than 71,000 full-time jobs and generated $2.7 billion in wages.

The city's hospitality industry generated an estimated $5.64 billion in visitor spending on hotels, dining, shopping, transportation and entertainment in 2008, an increase of one percent from 2007, according to the organization's statistics.

African Americans have a long history with the D.C. hospitality industry, with Black-owned places of lodging dating back to the 19th century. The most prominent was the Wormley Hotel, which opened in 1871 and was owned by entrepreneur James Wormley. Wormley's hotel was considered a first-class facility with a barbershop, bar and a dining room that was praised for its cleanliness and its European cuisine.

Ironically, the Wormley Hotel was the meeting place for representatives of Republican Rutherford B. Hayes and Democrat Samuel Tilden over the disputed 1876 presidential election. At this African-American owned facility, it was decided that Reconstruction in the South should end and thereby the rights of the newly emancipated slaves were put on the backburner.

The Dunbar Hotel which opened in 1946 at 15th and U Streets, N.W., was the only lodging facility in the District that would accept Black patrons at the time. The Dunbar began to deteriorate when the downtown hotels were integrated in the 1950s. There is an effort afoot by historians and a community activist alike to ensure that the Dunbar Hotel receives recognition in the District as a storied hotel.

Howard University also opened a hotel on Georgia Avenue in 1980 but had to close its doors in 1996 because the facility never turned a profit. Penny grew up in Seat Pleasant, Md., a suburb of the District in Prince George's County which has been portrayed in the mainstream media as having problems with public safety. Penny said that he spent his first 10 years in Seat Pleasant and has several vivid memories.

"I remember my father having to buy back our Christmas presents after they were stolen from the house," he said. "Those were not easy times but living in Seat Pleasant shaped my values and morals and how I viewed the world."

Penny said that his life-changing moment came when his older brother, Derrick, died in 1992.

"My brother's passing connected me to the fierce urgency of now," he said.

Penny went on to graduate from the University of Maryland at College Park with a Bachelor's degree in Business Management in 1997 and set off on his career in hospitality. He has strong roots in the industry. His grandmother worked at the Howard Johnson Hotel in Alexandria, Va., during the 1970s.

"I used to go to work with her sometimes and she really worked hard," he said.

Today, The Holiday Inn Crystal City sits on the parcel of land where Penny's grandmother worked decades ago. Penny has been a force behind the Hospitality High School of Washington, D.C., a charter school in Northwest that offers a college preparatory curriculum for students who aspire to have business management careers in the industry.

He has served on the board of directors of that institution since 2004 and has donated money to the school to purchase state-of-the-art equipment. He frequently speaks to the students there and encourages them to work hard and to stay focused and positive.

Penny also serves on the board of the hospitality program at the Howard University School of Business. He also sits on the boards of SOME [So Others May Eat], Ballou High School's STAY program and an initiative sponsored by the Marriott Corporation that helps youth with disabilities. Peebles said that ownership is the next step for a man like Penny.

"Ownership is the essence of power and there are few African-American owners in the industry," he said. "Of course, there are the hurdles for any African American because it is a capital intensive business. You must have access to capital and credit in order to start off and to succeed."

Nevertheless, Peebles encourages individuals like Penny to give entrepreneurship a shot, noting that his grandfather was a doorman at what is now the Marriott Wardman in Northwest.

"An owner of a hotel is a job creator and that is what we need more of in the Black community," he said. "For years, Blacks have been employees in this industry and now we need to be employers." Penny said that his focus is on making his hotel the best it can be.

"Hotel ownership is something to look at down the road and if the numbers are right and the deal makes sense, it is something I might consider," he said. "Right now, I want to make my hotel the top [hotel] in the city, providing our customers with good service."