More Americans Facing Poverty Now Than During Eisenhower Era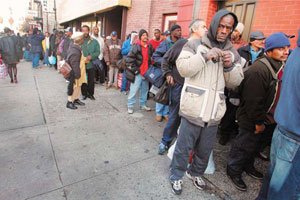 Let's add 3.8 million people to the list of impoverished Americans, according to the U.S. Census Bureau. Last Thursday, the Bureau released a report that stated that one out of every seven American citizens lived in poverty last year. It's the highest rate since 1959. It wouldn't be until 1964 that then President Lyndon B. Johnson would launch his "War on Poverty" initiative.

About 43.6 million people in America lived in poverty in 2009. The poverty rate in 2009 was 14.3 percent, which is an increase from 2008's rate of 13.2 percent. It's also the highest level since 1994. The U.S. government classifies an annual income of $21, 756 for a family of four as impoverished. A record high 50.7 million Americans went without health insurance in 2009 amidst the heated debate regarding President Barack Obama's health care reform.

And according to a couple of analysts, things might not get better until the end of the decade. According to a senior fellow at the Brookings Institute in Washington, Isabel Sawhill, the poverty rate is slated to hit 16 percent and stay at that level during the 2010s. She also came to the conclusion that the poverty club will add 10 million people this decade, which includes 6 million children.

Robert Greenstein also has a similarly dismal outlook for America. The executive director of the Center on Budget and Policy Priorities in Washington noted that in the country's last three recessions, poverty rates don't decrease until a year after drops in the unemployment rate.


According to Census Bureau statistics, the poverty rate in New York State rose from 14.2 percent in 2008 to 15.8 percent in 2009, essentially upping the number of people in poverty from 284,000 to just over 3 million. The only time that New York State suffered a poverty jump this high in a 12-month span was from 1989 to 1990.

All of this feeds right into the desires of one civil and human rights leader to mark jobs as the next big issue facing Washington. David R. Jones, Esq., of the Community Service Society of New York, expressed distress at what America has become and hopes that the poor of the country will not be forgotten like he feels they usually are.

"We are seeing a new poor--previously middle-class or working-class people who had jobs and were able to make ends meet," said Jones in another released statement. "Many have been jobless for so long that they are queuing up for public welfare benefits. We are wasting lives, and we cannot afford to do so. Many communities--both urban and rural--now mirror a third world country, with adults sitting around with no jobs and no future for them or their families."

Jones believes that jobs sponsored by the government are the solution to the economic downturn, but both suggest that the time to debate is over and the time to act is now.

"It is up to our leaders, both in government and the private sector, to move away from old habits and patterns of thought and respond to this national crisis," said Jones. "Unless we change our priorities, we will be creating generations mired in chronic poverty. The eventual result will be the economic downgrading of America to second-class status."

"We can begin to work our way out," said Jackson. "Congressional leaders, take the bold step of committing to reducing poverty by 50 percent over the next 10 years--half in 10! America, give us a listening ear...There is no time to waste. It's time for a change."