D.C. Council Members Voice Concerns about Gray's Budget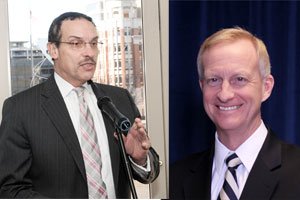 Members of the D.C. Council voiced their reservations about the mayor of the District of Columbia's fiscal year 2012 budget during a recent meeting.

D.C. Mayor Vincent GrayD.C. Mayor Vincent Gray presented his fiscal year 2012 budget to members of the D.C. Council on Fri., April 1 at the John A. Wilson Building in Northwest. Gray briefed council members before releasing the document to the press and the general public.

"The budget is painful but establishes a foundation for the future," Gray, 68, said.

The budget closes a $322 million gap with $187 million in expenditure cuts, $127 million in tax increases and $7.9 million in additional revenue from leasing, expanded sales and advertising. The District's budget must be balanced by law, if it isn't, a control board will be rein-stated.

Gray told council members that the city's reserves were not touched in the budget and tax increases, as a last resort. He said that failure to make the District's budget financially solvent could, in addition to a move toward a control board, increase Congressional interference with the city's operations and a downgrade of the city's bond rating on Wall Street.

Overall, Gray said that the budget reflected the important priorities for the city.

"This budget reflects my focus on the government's top priorities: fiscal stability, quality education, jobs, economic development and public safety," he said.

"It reflects the input of public servants and residents who have helped us make some tough choices. I'm proud that my budget team has done an excellent job of balancing twin challenges with this spending plan -- ensuring our city's fiscal stability and ensuring that we con-tinue to provide residents essential services."

High-income earners, those who make $200,000 a year, will have their taxes raised and multi-state corporations that conduct business in the city will have to start paying taxes.

Taxes on cigarettes and alcohol will be raised and there will be a new tax on theater performances.

D.C. Council member Jack Evans (D-Ward 2) didn't like the idea of raising the taxes of wealthy Washingtonians.

"To me that is a deal breaker," Evans, 58, said. "This city is coming out of a recession and we do not need that."

Evans, who is the chairman of the Committee on Finance and Revenue, said that the parking tax, while it's targeted toward commuters, would impact District residents in a large way because "40 percent of parkers are D.C. residents." He said that the doubling of fares on the D.C. Circulator from $1 to $2 was "a real surprise."

He chided the mayor for the tax on theater, saying that it was an "anathema to the arts community."

However, D.C. Council member Jim Graham (D-Ward 1) liked some of what Gray proposed.

"Finally, we have an increase in the downtown parking garages and I have been talking about that for some time," Graham, 65, said. "I am happy that we will restore the tax rate for higher income levels."

Graham did voice concerns regarding the city's TANF (Temporary Assistance to Needy Families) program, the interim disability pro-gram, where residents receive about $247 a month until they qualify for Social Security disability payments and the homeless program.
Gray, in response to Graham, said that TANF and the disability programs are being used in a manner that was never intended.

"We are not trying to eliminate TANF rolls but get people to a different place," he said. "In regards to the disability program, is this a bridge to SSI or another public assistance program?"

D.C. Council member Harry Thomas (D-Ward 5) praised the mayor for his budget but asked whether he looked into a jock tax as a pos-sible revenue source. A jock tax consists of assessing a fee to visiting professional athletes who play in the District of Columbia.

Thomas, 50 noted that other cities have a jock tax and D.C. would benefit, as well. While Gray agreed with Thomas in principle, he said it would not be implemented.

"It would be looked at as sort of a commuter tax and the U.S. Congress would not go along with it," he said.

Nonetheless, Evans and Thomas agreed that the matter needed to be studied further and that they would work together on that.

D.C. Council member Muriel Bowser (D-Ward 4) said that she hoped that there would be enough money in the budget to clean parks and recreation centers in the city.

"Some of the facilities are not clean," Bowser, 37, said, using the Wilson Aquatic Center in Northwest as a standard for other facilities in the city.

D.C. Council member Marion Barry (D-Ward 8) said that Gray did a good job constructing the budget under difficult circumstances.

"I commend the mayor for the policy decisions and for the direction of a balanced budget structure," Barry, 75, said.

Barry said that changes needed to be made in TANF "to help people get from dependency to self-sufficiency."

He also said that the D.C. Metropolitan Police Department had sufficient police officers and didn't need an increase in their budget for hiring additional officers.

D.C. Council Chairman Kwame Brown (D) said that the Council will have 56 days to review and make adjustments to the budget. Resi-dents will also have the chance to weigh in on what the mayor has proposed, he said.

"Our goal is to balance the D.C. budget without sacrificing critical city services, improvements in our public schools or initiatives aimed at creating more jobs," Brown, 40, said.