National Urban League Declares 'War on Unemployment'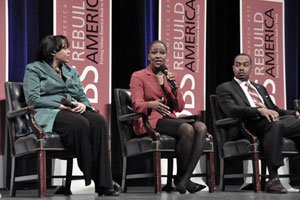 The nation's leading civil rights group which focuses on economic justice for people of color has determined that the country's high unemployment rate is unacceptable and that a plan must be put in place to remedy the situation.

The National Urban League, based in New York City, declared "war on unemployment" with the release of its "2011 State of Black America" report on Thursday, March 31 at Cramton Auditorium on the campus of Howard University in Northwest. The release of the report included a speech by National Urban League President and Chief Executive Officer Marc Morial and a panel discussion led by noted journalists Roland Martin and Jeff Johnson.

"Our nation has declared war on poverty ... war on drugs ... and even a war on obesity," Morial, 53, said.

"The National Urban League calls on Washington to declare war on unemployment, and urban America is the battlefront. As urban communities go, so goes America, and unless those communities have access to jobs and are fully prepared to excel and innovate in those jobs, the nation's economic recovery is meaningless."

The State of Black America report has been issued by the Urban League since 1976, when former Executive Director Vernon Jordan noted that President Gerald Ford in his State of the Union addressfailed to discuss the problems facing urban America. Since then, the report has become an indicator on where Blacks stand economically and in terms of education. The annual report has fostered discussions as to how Blacks can work to solve their problems.

The 2011 report centers on an Equality Index, which ranks Blacks and Latinos against White Americans on such issues as income, homeownership, health insurance and education. The report's index for Blacks stands at 71.5 percent, a 0.6 decline from last year. The index for Latinos, included for the second time in the history of the report, stands at 76.8 percent, compared to 76.6 percent in 2010.

The report also features essays on economic development by Rep. Emanuel Cleaver (D-Mo.), political activism by Democratic Party strategist Donna Brazile and First Lady Michelle Obama's health initiative, titled, "Let's Move."

Morial, a former mayor of New Orleans, said that Black unemployment mirrors what is going on with many Americans, regardless of race.
"Unfortunately, the areas where we have seen the equality gap narrow, in unemployment and lack of health insurance, reflect a worsened condition for the population in general," he said.

"With every downturn in the economy, urban and minority communities fall farther and farther behind. The State of Black America reflects the urgency for intervention and incentives targeted at the communities that are deeply affected."

When it comes to high unemployment, D.C. Mayor Vincent Gray is on the same page as Morial.

Gray showed up at Cramton Auditorium for the release of the report. It confirmed what he has known for quite some time.

"It is painfully obvious that America, in our large cities, are often referred to as being in a recession," Gray, 68, said.


NUL President Marc Morial answers questions following his "2011 State of Black America" address at Howard University in Northwest on Thu., March 31. / Photo by Roy Lewis
"But this is clearly akin to a depression. D.C. is a microcosm of what the nation has experienced."

Gray, who was honored by the Greater Washington Urban League in March, said that the African-American communities of Ward 8 and Ward 7 suffer from rates of unemployment of 25 percent and 17 percent, respectively. He said that the high unemployment rate has had an effect on the city's changing racial landscape.

"Fifteen years ago, the District was 75 percent African American," he said.

"We are now growing north of 600,000 but the city's percentage is now just 52 percent African American. In a few short years, there will be no majority racial group in the city."

The president of Howard University, Sidney Ribeau, seemed delighted that the Urban League selected his institution as the venue in which to release the report.

"We are pleased to join with the National Urban League and others to identify and implement solutions that will improve the State of Black America," he said.

"Together, we must address issues that are compromising the success of Black children at all educational levels to ensure that they are prepared to compete, especially in a global environment, with defined creative, analytical, science, technology and engineering competencies."

Ribeau noted that two former leaders of the Urban League, Jordan and John Jacob, held degrees from Howard.

Morial criticized the Republican leadership of the U.S. House of Representatives for the draconian cuts to social services such as job training and health care programs.

"Those cuts are mean-spirited and non-sensical," he said. "Washington, are you listening. Jobs are the number one issue facing this nation."

The Urban League advocates a 12-point plan to fight unemployment, which includes the U.S. Congress restoring the summer jobs program, public-private cooperation to provide employment and green empowerment zones in inner-city communities. Morial said that his organization will fight to stem the tide of high unemployment.

"We will never let up and never give in," he said.