District Hurt by Short-Term Deal to Fund U.S. Government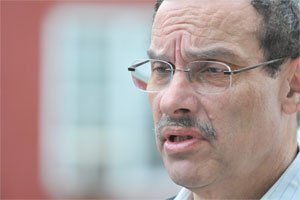 The District of Columbia took a hit when the U.S. Senate and the U.S. House of Representatives agreed to fund the federal government on a temporary basis on Fri., April 8.

The District will have to deal with congressional interference regarding the use of its local, taxpayer-generating funds to pay for abortions for low-income women, the needle exchange programs and the controversial D.C. school vouchers. D.C. Mayor Vincent Gray is not happy with the amendments, known as riders on Capitol Hill, which dictates how the city should spend its own money.

"While I am relieved that Congress reached an agreement so that our employees can work and services to our residents can continue, I am also angry and terribly disappointed that the District of Columbia suffered collateral damage amidst partisan bickering," Gray, 68, said. "Two riders contained in the budget deal impinge on the District of Columbia's autonomy. One limits our ability to fund, using our own money, reproductive services for low-income women; another imposes a continued school-voucher program on the District."

Gray said that "the District of Columbia's right to govern itself has, once again, been sacrificed on the altar of political expediency."

D.C. Del. Eleanor Holmes Norton agreed with Gray that the city's Home Rule rights were being tread upon.

"The District is still on the auction block during the final negotiations over the budget bill because Republicans want a ban on the use of D.C. local funds for needle-exchange programs in the package, which would guarantee the spread of HIV/AIDS among our citizens," Norton, 73, said.

She, like Gray, was happy that federal and District government employees could continue to work, but said that the politics of the situation is not fair.
D.C. Del. Eleanor Holmes Norton is adamant that Republicans in the U.S. House of Representatives should leave Home Rule matters to District leaders and residents. /Courtesy photo
"The House Republicans have sinister plans, some they have already announced to further diminish our rights," Norton said. "Only vigorous, determined action by the city's elected leaders and residents alike can save the District's Home Rule from being trampled by the House Republicans, who have shown that they will stop at nothing to undo all the victories we achieved over the last four years."