Gray's Arrest Brings Attention to D.C.'s Status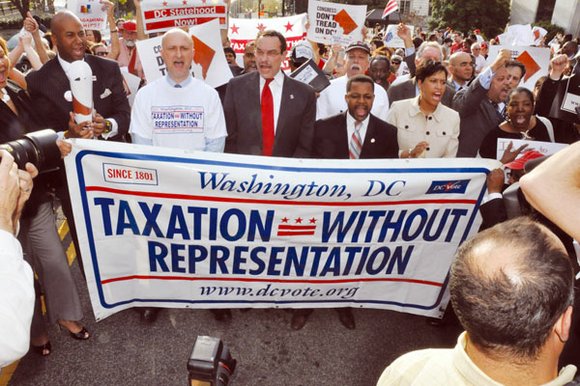 D.C. Mayor Vincent Gray and members of the City Council were met with cheers as they exited U.S. Capitol Police Headquarters at First and D Streets Northeast, Tuesday morning, following their arrest for unlawful assembly while protesting the city's lack of budgetary autonomy.

The arrests came during a rally sponsored by D.C. Vote, an advocacy organization that supports full citizenship rights for residents of the District of Columbia, Mon., April 10. It attracted more than 200 protesters who marked the near shutdown of the D.C. government on Fri., April 8, the last straw in an ongoing battle to govern the city without congressional interference.

"This is an absolute travesty," Gray said. "D.C. deserves to be free. All we want to do is to spend our own money."

The District took a hit when the U.S. Congress resolved a tumultuous budget battle by including social riders restricting the city's ability to spend its own money on abortions for poor women and a successful needle exchange program. The measure also revives a controversial education voucher program that some D.C. leaders oppose.

During the rally, U.S. Capitol Police advised participants that if they did not stay within specific boundaries it would result in their ar-rests. Gray and others, including, D.C. Council Chairman Kwame Brown (D) and D.C. Council members Muriel Bowser (D-Ward 4), Tommy Wells (D-Ward 6), Yvette Alexander (D-Ward 7), Michael Brown (I-At-Large) and Sekou Biddle (D-At-Large), then sat down in the middle of Constitution Avenue, Northeast, at the entrance to the Senate Dirksen Office Building, and were arrested.

"Free D.C.," a defiant Gray, 68, shouted while being led to a U.S. Capitol Police paddy wagon. Gray expressed dismay over the abortion rider, asking, "Why should women in the District of Columbia be subjected to a set of rules that no other woman is subject to?"

On the issue of vouchers, Gray said, "If we want a school voucher program, we should choose it ourselves."
As the government shutdown loomed over the weekend, President Barack Obama weighed in and reportedly told House Speaker John Boehner (R-Ohio), "John, I will give you D.C. abortion", effectively disregarding the wishes of D.C. voters and elected officials.

Bowser, 37, said she did not like the role that the president played in the budget deal. Obama is extremely popular in the District and re-cently declared his intention to run for re-election in 2012.

"I am disappointed in my president," she said. "He can't trade away our rights."

Bowser turned west in what could be interpreted as speaking to the White House and said, "If you don't choose us, we won't choose you."

Wells, 54, said that D.C. residents are U.S. citizens, not bargaining chips.

"Our rights cannot be sold down the river," he said.

Throughout the demonstration, rally participants chanted, "Hey, hey, Ho, ho; D.C. Riders Have Got to Go" and "Free D.C., Free D.C."

The group was taken to the U.S. Capitol Police warehouse facility in Southwest where they were booked. Only a few of the protestors were released by 1 a.m. on Tues., April 12. Wells, Alexander and Bowser were among those who were not released until around 4 a.m.

D.C. Del. Eleanor Holmes Norton (D) was scheduled to speak to the rally but did not attend for a very specific reason, "so that mem-bers of Congress could see that it was entirely a 'people's rally', not an action that had or needed her leadership," Norton said in a state-ment issued by her office. Norton, 73, is working to remove all of the anti-D.C. riders from the U.S. government budget.

Gray is the second D.C. mayor arrested while protesting a lack of D.C. representation and rights. Former-mayor Sharon Pratt Kelly was arrested in an August 1993 protest on Capitol Hill.

Following his release, Gray urged the residents of the District to stand up for their rights and to educate friends, family members and neighbors on the issues facing city.

Cynthia Robbins, a Ward 3 resident, said she was pleased that Gray and city leaders took actions.

"It's about time, I'm proud of them," she said. "I'm here because D.C. residents need voting representation. This is just the beginning," she said with a smile.