Uncertainty Surrounds At-Large Race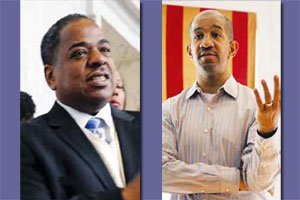 Days before residents flock to the polls on April 26 to vote in the special election for the at-large council member seat, none of the nine hopefuls appear to have outshined the other.

Sekou Biddle, 39, currently holds the seat, having assumed it in January after Kwame Brown took over as City Council chairman.

Biddle, who has served on the D.C. State Board of Education, also taught for eight years. He is strong on academic issues and, in addition to the support of his predecessor and Mayor Vincent Gray, has the backing of several of his colleagues on the Council. Though Biddle -- who was endorsed by At-Large Council member David Catania -- has been an early favorite, his incumbency alone is not necessarily going to snare him a win.

"I am focused on issues that are most important to District residents and they include education and employment. I bring a unique background in educational reform and I feel like my continued presence on the Council can really continue to move that issue forward," Biddle said.

The other candidates include Vincent Orange; Joshua Lopez; Patrick Mara; Bryan Weaver; Tom Brown; Dorothy Douglas; Arkan Haile and Alan Page.

Orange, 54, represented Ward 5 on the Council from 1997-2007, but subsequently lost a 2010 bid for Council chairman and a 2006 run for mayor.

The Pepco executive, who is married to a teacher, has received the endorsement of teachers and labor unions and said during a teachers' union rally last weekend that Biddle's 120 days in office do not exactly qualify him for the Council post.

"I believe in collective bargaining and protecting [teachers'] jobs," Orange said.

Armed with experience in budgetary matters, Orange not only has the name recognition but comes equipped with a thick bank roll and political connections.

"Together we stand [and] divided we fall," he said. Orange also said residents must band together to prevent Republicans from further stripping the District of its rights.

Mara is the only candidate listed as a Republican. Like Lopez and Weaver he comes to the table with a strong focus on ethics, oversight and accountability.

Mara's endorsements include The Washington Post. The 40-year-old Ward 1 resident owns a small business and first gained local prominence three years ago when he defeated At-Large Council member Carol Schwartz in the Republican Primary.

In announcing his candidacy in January, Mara said that whoever wins will cast a critical vote on the city's budget concerns.

"Countless other issues will come before the Council at a time when we can no longer afford to put politics and special interests ahead of common sense solutions," Mara said in a statement posted on the D.C. Board of Elections and Ethics (BOEE) Web site.

Lopez, 27, a former advisory neighborhood commissioner in the Brightwood neighborhood of Northwest, would be the first Latino ever to be elected to the Council. He touts himself as a fresh alternative to a D.C. City Council that is plagued with politicians who have lost sight of what it means to be a committed public servant.

"Recently D.C. has played host to political scandals that have drawn attention away from some of our most pressing issues," Lopez said in his official BOEE statement. "Our current leadership has been a disappointment."

Weaver, at age 40, has more than 20 years' experience working with youth and is being promoted as their candidate in the election. He is dedicated to the District being a more transparent municipal government and believes the city's future "relies on access to a quality education, good jobs with living wages, safer streets and affordable housing."

The other candidates - Page, Douglas, Haile and Tom Brown - have been less vocal having had to grapple with low polling and skimpy fundraising.

The absentee voting center located at One Judiciary Square in Northwest will be open from 12:30 p.m. to 5:30 p.m. on Sunday, April 24 for voters to cast ballots.

In-person voting is available seven days a week at the D.C. Board of Elections and Ethics office, 441 4th Street in Northwest, Suite 250. Voting hours are from 8:30 a.m. until 8 p.m. Monday through Saturday and 12:30 p.m. to 5:30 p.m. on Sunday. On Monday, April 25, voting will end at 4:45 p.m. - and voting hours on April 26 at neighborhood polling stations will take place from 7 a.m. until 8 p.m. Information provided by the D.C. Board of Elections and Ethics Web site.