WTU Targets The Washington Post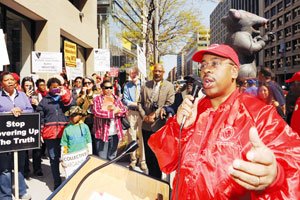 The Washington Teachers' Union (WTU) has lashed out at The Washington Post, accusing the newspaper giant of publishing articles that harmed teachers in the District of Columbia Public Schools (DCPS) system.

But not only has the Post vilified teachers -- many of whom were ensnared in former Chancellor Michelle Rhee's swift efforts at reform - Jerome Brocks, who will retire in June after a 35-year teaching career with DCPS, said that when the Post realized information it published last year about teachers abusing students was inaccurate, the paper refused to print a retraction.

"It came out that there was only one teacher who should not have been with an 18-year-old," said Brocks, who spoke during an April 15 demonstration that the WTU held at the Post's headquarters on 15th Street in Northwest.

"But did the Washington Post write a retraction - did they apologize to teachers," Brocks, 61, asked to a resounding "No," from the crowd. "Shame on you, Washington Post," he shouted.

Brocks also pointed out that when word got out that "somebody had used a magic eraser on student tests, Rhee said, 'Oh no, there was no cheating under my watch' and the Washington Post said, 'OK.' "

Sheila Gill, 59, was among the hundreds of staff and faculty fired during Rhee's three-year tenure. Rhee resigned under pressure in October after former Mayor Adrian Fenty failed to win a second term in office.

Gill said the Post attempted to cast Rhee in a positive light and, in effect, covered up several incidents that occurred when she was in control.

"They would have us believe that the Rhee/[Kaya] Henderson administration school reform is working," said Gill, a former McKinley Technology High School counselor who was terminated in October 2009.

"But I think not," she said to a thunderous bout of applause.

Gill said that during Rhee's reign more than100 DCPS central office staffers were paid salaries in excess of $100,000 per year. While she implied that was a matter the Post failed to report, Gill said the paper reported that principals tampered with some high school students' transcripts in order to allow them to graduate.

Gill also noted that in the Post's efforts to present Rhee in a positive light, it failed to report erasures on students' standardized tests at 103 District of Columbia public schools. Gill said that although the situation occurred under Rhee's watch, the Post looked the other way until the matter was reported by USA Today.

WTU expressed concern with the Post's connection to Kaplan Inc.

The Washington Post Company owns the New York City-based Kaplan, which provides test preparation materials and other services for various levels of education, including kindergarten through 12th grade.
WTU contends that the Post's ties to Kaplan - whose profits help keep the newspaper afloat -- creates a conflict of interest.

However, Post Communications Director Kris Coratti said in an email response that The Post is entirely
separate and independent from Kaplan and the positions taken in editorials represent the judgment of the individuals responsible for the page. She said the opinions expressed stand on their own merits and readers can choose to agree or disagree.

More than 200 people - mostly teachers - attended the rally and WTU President Nathan Saunders, 46, said that he was pleased with the turn out.

"What we [had was] an industrial-style labor action that involved professional employees and teachers - and I have been happy with the level of activism," Saunders said.

However, as he gazed up at the clusters of people who watched the demonstration from the upper floors of the Post building, Saunders said he took it as an indication of the Post's concern.

"But the issues are not going to go away," he said. "The Post has vilified teachers and as a result, has hurt our families and our schools - and we believe it's time for it to stop.