500 DC Area Students Compete in Summer Academic Competition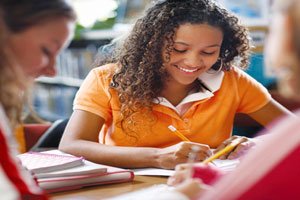 Higher Achievement's 6th Annual Olympics of the Mind celebrates summer learning
For 500 DC area students, school might have ended in June - but the hard work of academic learning continued through the summer. Today, Higher Achievement hosted its 6th annual Olympics of the Mind, a full day of friendly academic competition that showcased the remarkable academic skills Higher Achievement's young people have built throughout the summer - including math, science, social studies, and history.
The event took place at George Washington Middle School in Alexandria, VA, and was sponsored by FedEx Express and Capital Source. It comes at the end of Higher Achievement's summer academy, which has been in session five days a week, eight hours a day since June 27.
"The other day, one of our scholars told me he was sad for the weekend to come because he wouldn't get to be at Higher Achievement for two whole days! This is exactly the kind of feeling in the room at Olympics of the Mind today - it was a giant pep rally for learning," said Lynsey Wood Jeffries, Executive Director of Higher Achievement DC Metro. "These young people have made huge academic gains this summer and it was really inspiring to see them in action."
Extensive research shows that more than half of the achievement gap between lower- and higher-income youth can be attributed to unequal access to summer learning opportunities. Higher Achievement seeks to close this gap in DC through rigorous, high-quality learning opportunities year-round. The program culminates in a three-day, two-night college trip where scholars attend college classes and stay overnight in student dorms. The results of these opportunities are proven - 95% of Higher Achievement scholars advance to top academic high school and 93% go on to college.
"Strengthening the mind is an investment that reaps life-long returns. Congratulations to the Higher Achievement scholars for committing time and energy outside the regular school year to grow their academic skills," said Brian Hughes, Director of Operations, Capitol District for FedEx Express.
"We support programs like the Olympics of the Mind because we want to help reinforce for young people the long-term benefits of a solid education. FedEx seeks the best and brightest talent from around the globe and we want to help provide access to life's opportunities. We commend Higher Achievement for its work and call for other organizations to pick up to the charge to create opportunities for young students to enhance their educations."
Higher Achievement is a rigorous after-school and summer academic program gives youth from at-risk communities their best opportunity to succeed in middle school - and in life. Our research-based program challenges middle school students to meet their full potential in three key areas: academics, social skills, and leadership. When students get the skills and support they need to invest in their own success, they discover that they can be scholars.
On average, 95% of Higher Achievement scholars who complete the program advance to top academic high schools and 93% advance to college. Higher Achievement currently operates achievement centers in Washington, DC, Alexandria, VA and Baltimore, and Richmond, VA. www.higherachievement.org