Despite Debt-Ceiling Deal, Americans Not Out of Danger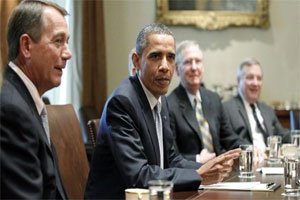 Over the past several months, Southeast resident Jackie Morgan watched the acrimonious partisan bickering and rancor on Capitol Hill between President Barack Obama and Republicans with increasing agitation.
Even though both sides were able to maneuver around their many differences and agree on a deal Tuesday, August 2, she looked less than pleased as she described her reaction.
"All this was avoidable," she said with a sigh. "It's ridiculous. I see this as the Tea Party trying to make things difficult for the first black president, President Obama. I was hoping he wouldn't give in. I knew this would be a hard decision for him. The bottom line is, I figured they would strike an agreement because they couldn't afford to risk not coming to some settlement."
The last hurdle in the fractious and bruising internecine battle was crossed early Tuesday afternoon when the Senate voted 74-26 for a bill that raises the debt ceiling by $2.1 trillion dollars. The bill, which Obama, signed into law shortly after, also includes $1 trillion in spending cuts - a key demand of the GOP. The agreement came a mere 12 hours before a deadline that would have seen the United States fall into default, unable to pay all of its bills.
The bill passed in the House of Representatives Monday by a margin of 269-161, with half the Democrats voting against it.
The debt-ceiling bill increases the debt limit by $400 billion now, with an additional $500 billion available in the fall. According to provisions in the bill, this $900 billion would be reduced by cuts to federal agencies and defense spending. This dollar-for-dollar increase in spending cuts was championed by House Speaker John Boehner (R-Ohio).
The Congressional Budget Office estimates that the deal could reduce the deficit by $2.1 trillion between 2012 and 2021.
Tallahassee resident James W. Haskins, Jr., 78, said the elected leaders' inability to find common ground and work out an accord was the topic of intense conversation between him and fellow retirees.
"Everyone I know who's on Social Security were about to go into temper tantrums because they didn't know what was going to happen," said Haskins, a former university professor and public relations executive. "People are already overtaxed and struggling and had to deal with this."
"The Republicans are spiteful and petty and I expect them to fight the president even harder on domestic policy," said Haskins, a veteran of the Korean War. "They would have put millions of people in jeopardy by taking away their Social Security. I don't want them messing with my Social Security because I earned it; I worked hard for it."
The Rev. Anthony J. Motley shared a common sentiment that none of the political wrangling needed to have happened.
"It is my contention that they should have done the right thing: protect the poor, those affected by the economy, protected the most vulnerable - the elderly, students and the disabled. That should have been the first priority. There is a very wide disparity but we have a moral obligation to ensure that the safety nets are preserved at any and all costs," the Southeast resident said.