Despite Debt-Ceiling Deal, Americans Not Out of Danger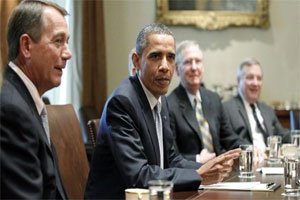 From what Avis Jones-DeWeever has seen, benefits are few, particularly for the poor and disadvantaged. Jones-DeWeever, executive director of the National Council of Negro Women, said the end result of this political power struggle caps discretionary spending for 10 years.
"This mandates sacrifices from the poor. Low- income Americans have been suffering and will continue to suffer," said Jones-DeWeever during a phone interview from Puerto Rico Tuesday night. "What is particularly disturbing is that the wealthy among us don't have any responsibility to help reduce the deficit."
"Although entitlement programs won't be cut at this stage, we don't know what programs will be cut. It means WIC may be cut and people can't get nutritional assistance, they can't get oil during the winter, have access to jobs or we can't invest in the economy."
Jones-DeWeever said the wrangling over which cuts to make is far from over.
Lawmakers plan to create a special bipartisan commission whose mandate is to draft legislation to find as much as $1.5 trillion to trim from the budget. Those recommendations would be voted on by Congress later this year. Three members each would be chosen by Senate Minority Leader Sen. Mitch McConnell (R-Ken.), Boehner, House Minority Leader Nancy Pelosi (D-Calif.), and Senate Majority Leader Harry Reid (D-Nev.). Medicare, Medicaid, federal retirement subsidies and farm subsidies are a few of the programs that may come under the knife.
"We are moving towards November when (the) panel will decide, said Jones-DeWeever.
"The main difficulty is that the trigger mechanism only includes cut and no revenue. There are likely cuts both sides won't want to implement. My particular fear is that those far to the right will favor cuts to the deficit without taxes being increased. The biggest win in this stage was that Social Security, Medicare and Medicaid were not on the table. Maybe later there'll be hope of some balance."
Few seemed happy with the deal, including Pelosi who publicly stated her dismay with the bill. Liberals and many on the left are furious because they don't think Obama fought hard enough to defend the Democratic position. In addition, they want to know why the president didn't seek an extension of payroll tax cuts and unemployment benefits. They particularly abhor the compromises Obama made, seeing them as counterintuitive and contrary to the ideals he held dear.
Howard University Political Science Professor Lorenzo Morris had a much more charitable view of Obama's efforts. He said that passage of the bill showed the president's ability to lead.
"I think President Obama's pattern and policy has always been cooperation," he said.
"Restrictions on spending in times of high unemployment will be damaging to the economy. If someone is sick and in the hospital, that is not the time to say you want to cut back on paying for their care."
Morris said it is quite difficult to effect compromise with elected officials (Tea Party members) who are unwilling to concede to or accept the positions of their own leadership, much less the opposition's. While a rational man makes a good leader, he said, sometimes there is the need for an emotional man.