Tanger Outlets Center: Economic Boon or Traffic Bottlneck?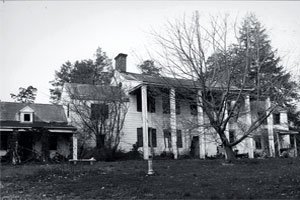 "The only bone of contention was how the mall would impact any historic structures that exist on the Salubria plantation," said Grigsby.
Howard Berger, Supervisor of the Historic Preservation Section of the Maryland National Capital Park and Planning Commission (Prince George's County) says the historic structures on the land are protected.
"The ultimate acreage of the plantation/farm was considerable. More than the 64 acres were deeded [to Dr. John Bayne from his father] in 1827. Currently, the Salubria environmental setting (the area protected as the Historic Site) is approximately 2.7 acres," said Berger. "This land is located within a larger parcel of approximately 22.56 acres...but only the 2.7 acres are protected as the Historic Site."
Salubria is steeped in rich history, and its story is critical to understanding life in the county during the 19th century.
Ruins of the south end of the plantation house in 2003. /Photo by Perterson Companies
"There are a number of vestiges left of the main house and outbuildings and the foundation from what was a guest quarters or a slave house," Berger explained. "Salubria was a 19th century farm that produced tobacco and other agricultural crops such as fruits and vegetables."
Dr. John Bayne was a physician, abolitionist and legislator. The irony is Salubria, the plantation which he owned and occupied with his family was run by slave labor. A 14 year old slave girl he owned named Judith, was charged with taking care of Bayne's two small sons - she poisoned them in November of 1834. Years prior, Judith had also killed Bayne's infant. That same slave set Salubria on fire her punishment for these acts was death. She was hung one month later in December.
Though the story of Salubria is dark and tragic, it's vestiges remain part of the county's story which some residents and members of the historic community would like to see preserved, and unaltered by developers.
"We would like to see that the process for mitigating change is followed given the fact that the developers are invested in those findings, and we hope the findings are shared with the historic preservation community and used for public educational purposes," said Berger.
"While there has been an overwhelming excitement about finally bringing a quality retail venue to Prince George's County and particularly to the Oxon Hill area, we have as always attempted to address all concerns. To that end, The Peterson Companies, along with local community and historic preservation groups, have committed to work together on providing an appropriate interpretation of the historical significance of the property somewhere on site," offered Chess.
The new outlet mall could be open as early as 2013. More information about other Tanger Outlet properties can be found online http://www.tangeroutlet.com
ourtesy of the Historic American Buildings Survey (HABS), within the M-NCPPC collection, circa 1987.