UDC and National Veterans Coalition Partner
WI Staff | 8/3/2011, 1:33 p.m.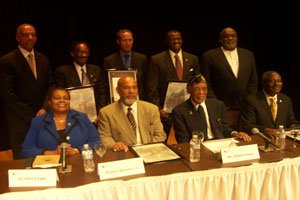 More than 250 people gathered to witness an historical agreement between the University of the District of Columbia and the Oakland, CA-based National Veterans Coalition to study how the two entities could create a $500,000 endowment fund to benefit military veterans and their dependents. The scholarship would be established in the name of storied Buffalo solider and diplomat Col. Charles Young.
The two groups said they will also consider, along with the Omega Psi Phi Fraternity, Inc., building a statue of Col. Young in the nation's capitol. D.C. Mayor Vincent Gray and U.S. Congresswoman Eleanor Holmes-Norton participated in the event and voiced their support of the intended scholarship and their determination to help the two institutions build a fitting monument to Col. Young, who was the highest ranking black American in the US Armed Forces at the time of his death in 1922. He was denied a promotion to Brigadier General because of his race.