(Un)Lock It: the Percussive People in the Go-Go Pocket Thomas Sayers Ellis
WI Staff | 8/3/2011, 9:12 p.m.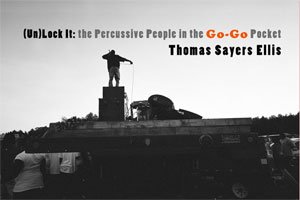 Opening Reception: Friday, August 5th from 6-8pm

The Gallery at Vivid Solutions
2208 Martin Luther King Jr. Ave SE, Washington DC 20020

July 15, 2011-- (Un)Lock It: the Percussive People in the Go-Go Pocket, a collection of photographs taken in Washington, D.C. by poet and photographer Thomas Sayers Ellis (author of The Maverick Room and Skin, Inc.), opens at The Gallery at Vivid Solutions on August 5th at 6pm.

Mr. Ellis was born and raised in Washington, D.C. and began taking his camera to area Go-Go's while he was a percussionist in the Petworth Band in the 80s. (Un)lock It is a very honest look at Go-Go culture which always seems to be on the verge of eviction from its own home as well as plagued by the difficult perception that it is a sub-genre that, unlike Hip Hop, can't go national. Ellis portrays the lives of local legends like Chuck Brown and Little Benny with intimate respect and fascination, clicking the camera's shutter at Go-Go's many percussive, decisive moments the same way a drummer smashes cymbals. He refuses to "make shiny, chrome objects out of his subjects" and what, at first, appears to be mere photographs of a yet another vanishing musical folk culture, reveals the artists insight into "a full blown resistance movement ready to reload and go hard in the renewed struggle for true Home Rule and Statehood in the nation's capitol."
Often referred to as the Photo Laureate of D.C., Ellis likes to talk about these photographs as being "In the pocket" and defines a Go-Go pocket as, "The grammar of Go-Go and the percussive conversation between the drums, congas and cowbell. It is the way, during the Golden Age of Go-Go, the different communities exchanged useful news, rumors and gossip via a Lead Talker not a rapper. A locked Go-Go pocket begins with a foot and a sock, the drum behaving like a fat spider in Washington, D.C.'s ever-changing web of wards."
The collection shows the depth of Ellis' 25 years of documentation, in the form of black and white and color images all shot on film. Distilled into a collection of over thirtyfive images, this exhibition powerfully captures the essential DC as the Go-Go city.
(Un)lock it: the Percussive People in the Go-Go Pocket will be open to the public from August 5th to October 7th 2011, Gallery hours are 12-5, Tuesdays through Friday and 11-5 on Saturdays. For more information, contact Beth Ferraro at 202-365-8392.
The Gallery at Vivid Solutions is a photography & digital arts exhibition space dedicated to showcasing and supporting established contemporary artists, as well as aspiring local Washington, D.C. talents. The gallery aims to provide better access and knowledge about the skill of both traditional and digital photography, with the ultimate purpose of promoting and encouraging all photographers. The Gallery at Vivid Solutions is a project of ARCH Development Corporation and opened in 2009. The gallery is located at 2208 Martin Luther King Jr Ave SE, Washington DC 20020, sharing the building with Vivid Solutions DC Print Lab.