Nation's Football Classic Coming to DC, AT&T Lead Sponsor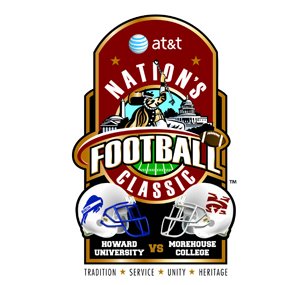 WASHINGTON, D.C. - Events DC has announced AT&T as the title sponsor of the highly-anticipated Nation's Football Classic, which will be held at 3:30 p.m, Saturday, Sept. 10 at RFK Stadium.
The Nation's Classic is being touted as an annual black college football game that is closely modeled after the Bayou Classic in New Orleans. That event is known for its fan fests, tailgates,and fierce competition on the football field.
The Classic's inaugural game will have the District's Howard University square off against Atlanta's Morehouse College, and the expectation is that both teams will play in the competititon through 2013.
"AT&T is a perfect fit for the Nation's Football Classic," Erik A. Moses, managing director of the Events DC Sports and Entertainment Division, said of the multi-year deal with AT&T. "Title sponsor support for this game from AT&T, one of the world's most recognizable brands, is consistent with the way we believe this new historically black college and universities (HBCU) tradition in the nation's capital will be embraced by the greater Washington region and the nation for years to come."
In addition to serving as title sponsor, AT&T will headline the Kick-off Rally, a spirited event celebrating the start of the weekend's events with music and appearances by celebrities, city officials and representatives from the participating schools.
"AT&T looks forward to celebrating the inaugural game with students, alumni and supporters as we honor the rich tradition, camaraderie, heritage and excellence of these proud institutions," said Jennifer Jones, vice president of Diverse Markets, AT&T Mobility and Consumer Markets. "The AT&T Nation's Football Classic is just one of the ways we continue to show our commitment to all customer segments."
District Mayor Vincent Gray reportedly made a small wager earlier this year with Atlanta Mayor Kasim Reed -- a Howard alumnus -- regarding the outcome of the game: If Morehouse wins, Gray will treat Reed to a chili half-smoke from Ben's Chili Bowl, a popular D.C. eatery. If Howard wins, Reed will treat Gary to a chili cheese slaw dog with rings and a frosted orange at The Varsity.
The official schedule of events surrounding the Classic will take place Thursday, Sept. 8 through Sunday, Sept.11.
In addition to the on-field match up between two historic rivals, events include educational activities, fan experiences and networking opportunities.
With exception of the football game, events are free to the general public.
Tickets for the Classic are on sale now - priced at $15 to $60 - at all Ticketmaster locations, Ticketmaster.com, the Howard University box office located at Cramton Auditorium and the Morehouse College Bookstore.
Special discounted hotel rates are available at six D.C.-area Marriott properties. Each hotel has a limited room block so attendees are encouraged to make reservations early to ensure they receive the discounted rate.
For additional information or to make reservations, please visit www.NationsFootballClassic.com. NFC Twitter: www.Twitter.com/@nationsclassicNFC Facebook: www.Facebook.com/NationsFootballClassicHoward University: www.Howard.eduMorehouse College: www.Morehouse.edu.