Maxine Waters Reflects on Voting Rights Anniversary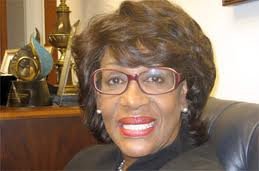 In commemoration the 46th anniversary of the enactment of the Voting Rights Act (VRA), Congresswoman Maxine Waters (D-Calif.) said in a statement that while African Americans have made significants strides, they still need the VRA to ensure protections against local or federal laws that could adversely impact minority voting rights.
"I am very pleased to commemorate the anniversary of the Voting Rights Act of 1965," Waters,73, said of the historic legislation that was signed into law on Aug. 6,1965 by President Lyndon Johnson. "This landmark legislation was, and remains critical to protecting the democratic participation of African - Americans in the United States."
The Act, which was developed in direct response to the failure of previous federal legislation, was enacted by Congress to ensure that African Americans in the South would have equal access to vote, according to Waters. The Act was also designed to eliminate racial restrictions of the right to vote.
"The right to vote is a fundamental right and is critical to our democracy," Waters continued." "In a post Citizens United political system where powerful corporations and special interests are able to expend exorbitant amounts of money to influence elections, the right to vote remains the great equalizer."
Waters added that at the height of Jim Crow, southern state legislators, who had been resentful of the limited protections that were extended to African - Americans shortly after Reconstruction, began to repeal state civil rights protections.
"As we continue to see the emergence of new state voter suppression laws, the VRA remains relevant,'said Waters. "With only 15 months left before the next presidential election, Republican-led legislatures are rewriting voting laws to require photo identification at the polls, reduce the number of early voting days and enhance voting restrictions against ex-felons and out-of-state students," she said.
Waters said in conclusion, that African Americans must "remain vigilant and on guard against potential policies that may undermine minority participation and diminish African - Americans' political representation."