Anacostia Gallery Hosts Benefit Concert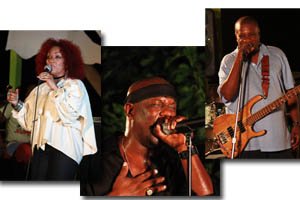 The Anacostia Gallery in conjunction with Kip Lornell and Charles Stephenson, authors of The Beat! Go-Go Music from Washington, D.C., hosted a benefit concert, "Go Go Under The Stars," in support of the "Teach the Beat" initiative which will introduce a Go-Go curriculum to District of Columbia Public Schools in SY 2011-2012.
One of the first of its kind, this event featured a medley of well-known members from various Go-Go bands, including Maiesha & the Hip Huggers' Maiesha Rashad (vocalist), affectionately dubbed "Our Chaka Khan" by D.J. Rico, Sweet Cherie (Keyboard) of the all-female Go-Go band Be'la Dona, and Donnell "D-Floyd" Floyd (Saxophonists and Lead Talker) and Darryl "Blue-Eye" Arrington (Drums) of Rare Essence among several other Go-Go notables.
The Go-Go All Stars donated their time and talents kicking off the concert with a lesson for the youth in attendance. Experience Unlimited's (E.U.)'s lead speaker and bass player, Gregory "Sugar Bear" Elliot, explained "This is where it all began" as he led the band into a cover of Grover Washington, Jr.'s "Mister Magic." Not many held onto their seats as the infectious beat rolled into the night causing hip-swaying and shoulder-rocking from attendants of all ages who gathered in support of "Teach the Beat."
Per Deborah Menkart of Teaching for Change, many of the teachers who participated in the previous "Evolution of the Go-Go Beat in Washington, D.C." have since submitted several lesson plans to be test-piloted this school year.
Teachers can still get involved by contacting TFC at: teachthebeat@teachingforchange.org. Tax deductible donations to Teach the Beat can be made at: www.teachingforchange.org/thebeat-donation.