Volunteering at Claggett Farm: It's a Good, Sustainable, Thing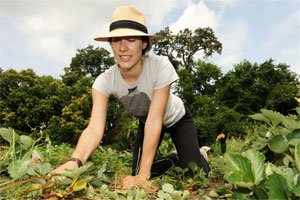 Should you decide to volunteer, here's how the day will go:
8:15 a.m. arrival and brief discussion with the group leader (it appears that lateness is frowned upon.) On this Saturday, the leader was Zachari Curtis, a petite agriculture wunderkind who has been a full-time farmer at Claggett Farm for the last three seasons. Got a question about eggplant or strawberry plants or exactly what you should be doing? Ask Zachari. If you happen to be chatting- it- up a little too much while you're picking, don't be surprised when Zachari walks over to remind you to focus on exactly why you're there. That's because as Zolper says, the farm really depends on volunteers.
During the four hour shift workers may shift fields a few times. On this particular day volunteers began picking yellow, green, and purple beans, but the harvest was minimal. Some pickers only had five or six beans in their large blue crates.
Next stop -- eggplant. Many of the pickers expressed relief (others euphoria) that there were substantially more eggplants for picking than were beans in the bean field. After several crates were filled with three different kinds of eggplant, a pickup truck arrived to haul the "veg" and the workers. It might surprise you how six workers can fit along with ten heavy crates of vegetables in the bed of a pickup. The ride in the truck is best described as whimsical and fun - but if you take this ride hold on, it might feel as if you're going to fall off. No worries, you won't.
10:00 a.m. The truck drops the volunteers and remaining empty crates in the zucchini squash field. Zachari warns that the fence is electric and if you touch it instead of climbing over or crawling under it you might get a zing. Volunteers head out excited by the prospect of finding copious amounts of zucchini just like the scenario in the eggplant patch but their hopes are quickly dashed as only a small amount of squash are ready for harvesting. A half hour passes then comes the break. The group needs water. They fill bottles with a nearby hose -- the water is cool and refreshing.
Ten minutes pass and then workers hike up the hill past the historic white colonial house to the strawberry patch. No strawberries are there but there's still a lot of work to be done. The entire field needs to be cleared of weeds (some of which are prickly) so the berry plants wont' have to compete with the weeds for nutrients.
Time goes much slower in the strawberry patch, but conversation and laughter makes the time pass. One hour left until quitting time. The sun seems more intense; limbs feel heavy, shoes and shirts once pristine are now dirty. Still there are smiles. A poignant realization sets in for some. The volunteers realize all of their hard work means someone who might not otherwise have food, will now have fresh produce.
"It's a good cause and really good that underprivileged people can get healthy food," said volunteer Maggie Halloren.
Full disclosure: I spent three hours volunteering, but I didn't quite make it the entire four hours which would have yielded the free vegetables. However, my hours are banked so that the next time I volunteer and I will soon, I will indeed secure my coveted share of "veg."
More information about Claggett Farm can be found on-line: www.claggetfarm.org
CLAGETT FARM
11904 Old Marlboro Pike
Upper Marlboro, MD 20772
301/627-4662
email : clagettfarm@cbf.org