Closing of Parent Resource Centers Triggers Resistance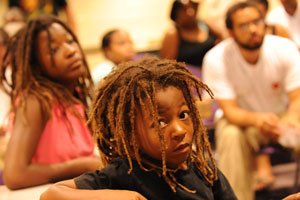 A meeting between a District of Columbia Public Schools (DCPS) official and a group of parents on Thursday, August 4, was billed as a community conversation about family and community engagement.
Instead, the forum became a flashpoint as parent after parent assailed Kelly Young, interim director of the Office of Family and Public Engagement, for the Henderson Administration's decision to close several Parent Resource Centers (PRC) and place almost a dozen family engagement coordinators on administrative leave. The exchanges exposed the deep suspicion and distrust parents say has been created by an administration whose trademark is not to involve and engage, but to make often-sweeping decisions and then inform parents after the fact.
"I'm tired of coming to meetings where the deal's already done," said Absalom Jordan, chairman of the Parent Resource Center Steering Committee and Ward 8 ANC. "You disrespect us by not listening to us. You have made poor choices ... (and) you eviscerate the laws whenever it serves your interests."
In a discussion after the meeting, Jordan, 70, whose five children attended D.C. Public Schools, put his concerns into context.
"The framework from which I'm working is from that of a black and poor parent," he said.
"My concern is that if DCPS couldn't work effectively with the steering committee, then that's an indication that it can't work with the 85 percent of the parents who happen to be Black ... it is important to know what the impetus of the decision was. The new administration wants to bring in its own people. I think it's a situation where they pre-selected some people for the jobs. They wanted to get rid of some people because if your loyalty is to the community, then that's problematic."
Young seemingly unfazed by the buzz saw of skepticism and condemnation, did her best to placate the restive standing-room-only crowd of about 75 people at Miner Elementary School in Northeast.
"The decision was made to restructure this office. The Parent Resource Center was only working for a few parents," Young said as the crowd disagreed and some jeered. "We had three centers for 45,000 students. There was a problem with resources and the low ratio of staff to parents. It is not a finalized plan; it is a structure and framework to better support the community, student learning and the District. The Parent Resource Center is temporarily closed. We have an RFP to find programs in the community to run them."
Young reiterated Henderson's desire to more actively engage parents.
"I acknowledge the wealth of experiences and resources in this room. I really value that," she said. "I want us to work together collectively. We don't have all the answers and we want to do what works best for our children. Engaged parents are the issue at the heart of what we're trying to do. We can't do this alone so we're partnering with parents."
That message was lost on the vocal majority. Parents repeatedly criticized school officials for their penchant to ignore the advice and suggestions they offer.