Closing of Parent Resource Centers Triggers Resistance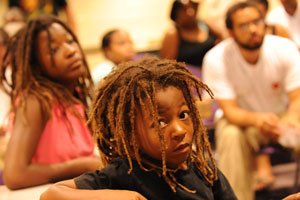 Alicia Rucker, a mother of children who attend District schools, and a vocal advocate, was one such critic.
"This is after the fact. You put the cart before the horse," she said. "If you're going to engage parents at every level, we want to be at the table at the beginning of the dinner and not at the time for dessert."
A statement offered by another parent summarized several speakers' criticisms: "Every time they have these meetings, they put our ideas on paper and it comes back to us as ideas for us to consider."
And in too many cases, said longtime education activist Sheila Carr, other people benefit financially at the parent's expense. She cited the example of one such concern, Turning the Page, a non-profit organization providing resources for quality education for D.C. students, "who took what we already did and charged $115,000 to implement it."
The frustration the parents felt was characterized by some tough talk and pointed questions. One man asked how he could get rid of Young if she wasn't doing what parents demanded.
"Call the Chancellor," she quipped.
What added to the frustration was Young's inability to answer questions to people's satisfaction.
"We talk and talk but you don't listen to us as parents," said Gwendolyn Griffin, president of the District's Parent-Teacher Associations. "Are you really going to listen to us? You're not listening to us. We want those centers reopened. I worked with all of them and they were doing good things."
"Why don't you take those things that worked and put more money (into them), build on them?"
Crystal Powell stood in the back of the classroom with arms folded, her expression betraying her emotions. As parents talked, she agreed by shaking her head, pressing closer as people talked or paced around, concern etched on her face.
"Are we getting our jobs back?" she asked at one point, her voice wavering slightly. "I have been an outreach specialist since 2008. I went to every principal and walked up and down Ward 8, Wheeler Road, Savannah Street... We reached out to several thousand people, collected so much information.
We've let our families down. Every day, I can't believe that this has happened. I was not fired for performance. My performance was exemplary. You owe all of us an apology."
Powell, 32 and mother of a nine-year old who attends a DCPS school, said she was hesitant to say anything for fear of possible repercussions.
"I didn't want to ask a question, but I wouldn't have been able to sleep tonight if I didn't," she said during an interview late Thursday. "I had to be true to myself."
She said events surrounding their dismissal have left PRC staff reeling. Powell said there was a great deal of uncertainty and turmoil leading up to her receiving a termination letter on July 15. And questions remain because school officials have not explained their rationale for the terminations.
"Over the last couple of months, we were unclear about her (Young's) direction. They sent me for training the week I was terminated. They told us our positions had been terminated. We were at a loss for words, because many of us had done so much for the community. They told us we can reapply but there are no guarantees. We heard that you have to have a bachelor's and a master's degree. It's very disheartening," she said.