Fired D.C. Teachers Speak Out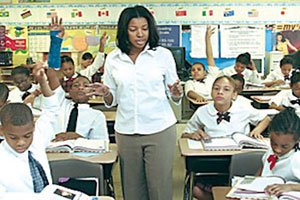 Candi Peterson, WTU's general vice president, wrote a scathing response in the Washington Teacher blog shortly after the lay-offs, "teacher firings are a continuation of Michelle Rhee's educational plan to terminate a significant share of the D.C. teaching workforce while establishing job loss as a likely consequence of poor classroom test scores on standardized tests."
"In D.C., 55 percent of a teacher's performance evaluation is tied to student test scores in the testing grades. Prior to getting elected as D.C. Mayor in 2010, Vincent C. Gray, who was then Chairman of the D.C. City Council, stated that there was controversy over IMPACT teacher evaluations after the announcement of 241 teacher firings. At the time, Gray stated that he wanted to look further into the 2010 teacher dismissals."
Now that Gray is mayor, Peterson said, "We have heard nary a word from (him) on this issue. I guess with all of the ethical dilemmas the Gray administration has faced during his short tenure as mayor - teachers' dismissals aren't the priority they once were while he was campaigning. If Gray doesn't take the time to review the IMPACT controversy, then shame on him."
For Leigh Mosley, an Adams Morgan resident who has been teaching all of her adult life, her firing came as a jolt.
"My nose was to the grindstone. I had no idea about Rhee and it was hard to keep a finger on the pulse of machinations," she said. "I had no overall sense of what was going on because my job was so demanding. I was at work every day from 7 a.m. until night doing my job."
"I had an overall sense of what Mayor Fenty was doing but I had no idea that it would be so swift or so sweeping."
When she was fired, Mosley, 66, said she was teaching at Luke C. Moore Academy in Northeast, which she characterized as the last stop for students trying to get an education.
"The principal said I wasn't doing an adequate job which was ridiculous because I got a positive rating," she said. "Rhee sent out a letter saying if (principals) didn't like you, they could get rid of you. I wasn't so bad. I didn't sit around and wait. I got a new job two weeks later."
"I saw Rhee and confronted her and she said, 'it's too bad, there's nothing you can do about it.' I said I would get a lawyer and she said she had lawyers too."
Mosley and Bonds said a judge ruled in their favor, saying that the 78 fired teachers were entitled to backpay if they were unemployed. Mosley, however, got nothing because she had found a job. Bonds said she fared no better because DCPS officials reversed an earlier promise and appealed the ruling.
Mosley said while she's no conspiracy theorist, she believes these firings are part of a larger plan.
"What they're doing is getting rid of the old guard and replacing them with new, young teachers to prepare the city for the move into another direction," said the native Washingtonian.