Post Office Closing Generates Concerns in Northeast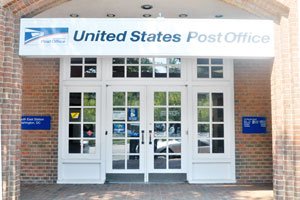 Matilda Carter enjoys shopping at the East River Shopping Center in Northeast, where she can buy groceries, clothes, conduct transactions with her bank and go to the post office. However, the option of going to the post office may not be available because U.S. Postal Service officials have identified the Benning Station Post Office, which is located in the shopping center, as one of the 3,700 nationwide that will be studied for closure. Carter, 45, was surprised by the news.
"I am extremely displeased about the possible closing of the Benning Station Post Office," Carter, who lives in Northeast, said. "If they close Benning Station that means that there will be no post office in the area for me to go to. I will have to travel to Union Station to do my postal business and I don't like that at all."
The United States Postal Service delivers 40 percent of the world's mail to 150 million homes and businesses. It employs roughly 600,000 people, which is second only to Walmart, in terms of employment with a single entity.
The post office is one of the few agencies explicitly authorized by the U.S. Constitution, with the Postmaster General initially a part of the president's Cabinet until 1971, with the Postal Reorganization Act making it an independent agency.
While it has thrived almost since its inception, the post office now faces serious financial challenges. The agency has an $8 billion deficit, due in part to a 2006 Congressional mandate that it pre-fund all retiree benefits for the next 75 years with 10 years.
Additionally, the use of postal facilities has declined significantly as more Americans correspond and pay bills electronically. Postmaster General Patrick Donahoe announced the review of the 3,700 postal stations on July 26, saying that a change was needed.
"Today, more than 35 percent of the Postal Service's retail revenue comes from expanded access locations such as grocery stores, drug stores, office supply stores, retail chains, self-service kiosks, ATMs, and usps.com, which is open 24/7," Donahoe said. "Our customers' habits have made it clear that they no longer require a physical post office to conduct most of their postal business."
Carter does not agree with Donahoe.An unidentified Postal Worker helps a customer with a U.S. Postal money order at the South East Brach Post Office located on Pennsylvania Avenue Southeast. /Photo by Khalid Naji-Allah.
"Right now, I do not do anything online because I am concerned about security and privacy," she said. "I do not have regular access to a computer so that is not an option for me."
Curline Marshall, a regular customer at the Benning Station Post Office, said that the online option is not good for her, either.
"There are some people who have no computers and are computer illiterate," Marshall of Northeast, said. "Besides, I live close to here. Why should I have to go somewhere else to go to the post office when the one here in Benning Station is doing fine?"
Marshall said that the closest station to her is located on Good Hope Road in Southeast and "that may be a problem for some people who live over here."