SYEP 2011 Comes to Close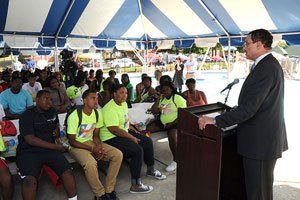 The DC Department of Employment Services (DOES) is recognizing the conclusion of Mayor Vincent C. Gray's One City Summer Youth Employment Program (SYEP) with a closing ceremony on Friday, August 5, to honor outstanding youth participants and to acknowledge the support of several employers who helped make this year's program one of the most successful in recent years.
The closing ceremony opened with brief highlights from SYEP 2011 and featured a number of participating agency and business leaders who offered congratulatory remarks and words of encouragement for youth participants to continue their professional development beyond the summer.
"We are extremely proud of the SYEP participants who performed so well this summer," said DOES Director Lisa M. Mallory. "The support SYEP received from employers helped to make this experience a valuable one for our young people. The employers ensured that SYEP participants gained invaluable work experience and an opportunity to 'learn and earn.' So we are delighted to offer this formal thank you as we conclude SYEP 2011."
The ceremony showcased several employers and their successful programs, including the Cohn's Culinary & Hospitality Management Academy, who provided light refreshments for the event, prepared by its SYEP participants.
The ceremony concluded with an awards presentation to the top 100 finalists who were nominated as "Outstanding Youth" of SYEP 2011 and culminate in the presentation of the SYEP Outstanding Youth Award to a distinguished youth who has demonstrated exemplary youth leadership, exceptional initiative, and distinguished service throughout the summer program.