Norton Job Fair Inspires Hope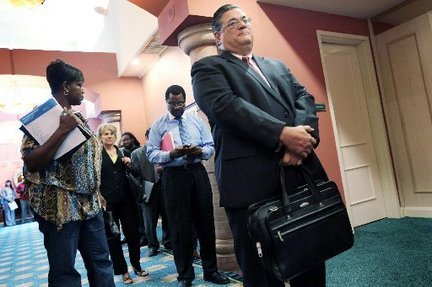 Congressional Delegate Eleanor Holmes Norton's 14th annual job fair drew more than 4,000 job hunters to the Walter E. Washington Convention Center on Aug. 9. Scores of people began lining up several hours before the fair began.
"We are always pleased to see a high turn-out at our job fairs, but this year's crowd, which began lining up at 7:30 a.m. for an 11:00 a.m. job fair, brought us a share of heartbreak," Norton said. "Coming out of the debt ceiling debacle, the cuts-only debt ceiling bill, and the deepest market plunge in years, I feared that residents would be disheartened," she continued. "Instead, we found people grateful to know that there are jobs here, and to have the chance to speak to a real person in today's job market where job search is done almost exclusively online."
Figures from the Bureau of Labor Statistics show the rate of unemployment among District residents is 10.4 percent -- an increase of 0.6 percentage points from last month. That compares to Maryland's unemployment rate of 7 percent, and 6 percent in Virginia.
One hundred employers from the public and private sector were on hand, including Catholic University, AFLAC, and G.W. Peoples Contracting Company.
Peoples, an African-American owned company, is the subcontractor for rail installation for the Metropolitan Washington Airport Authority/WMATA Dulles International Airport Corridor Metrorail project (The Silver Line). The company was awarded a $3.4 million contract to install a railroad track.
Mary Ridley, EEO officer at Peoples is excited about the opportunities her company offers.
"We're here to take several hundred applications and develop a pool of workers," she said. "We've got jobs but its hard work."
Cheri Carter of Ward 8 was among the crowd of anxious job seekers.
"I actually had a job as a bus driver, but I lost my job after I had a baby one month ago," Carter said. My goal today is to find a better career for myself and to support my children because I can't sit home and wait for a check. I'll work anywhere that's hiring including McDonalds, it's a job."
Natesha Stewart also lives in Ward 8, and like Carter, she too needs money to support her five children.
"I had a job as a teacher's assistant, but due to cuts my job was eliminated. I'm divorced and I don't have any help financially. I've been out of work since 2009 and I need a job."
Doctoral candidate Cassandra Levine was also searching out opportunities.
"I'm scouting for two things: administrative positions with federal agencies and corporate jobs with socially responsible companies," said Levine, a transplant from New York who now lives on Capitol Hill in Ward 6. She said she recognized that may not have been the typical job fair candidate.
"If I don't find a position, I'll just go back to consulting," Levine said, holding up a list of her previous clients which include unions, nonprofits and one Asian law enforcement organization. She offered comforting words of advice for job hunters who may be discouraged.
"They have to get quiet and centered and listen to themselves and get connected with the Lord [for direction]," Levine said.
According to Norton, the high unemployment rate in D.C. has not disheartened residents. Their confidence in the U.S. economy is a lot higher than Standard & Poor's, she said. "The hope and hunger for jobs in D.C. is an indication that Congress should be inspired and get around to job growth when it reconvenes," Norton said.