London, Surrounding Areas, Brace for Continuing Riots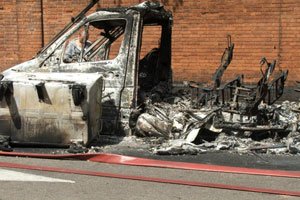 Police shooting spurs unrest, fires by outraged citizens
What began as a routine stop and search by police in the Tottenham area of London, quickly escalated into the police shooting death of the suspect, and nights of civil disobedience, looting, and violence. According to police reports, Mark Duggan, a 29-year-old father of four, was pulled over while riding in the taxicab. Shortly afterward, police claim an exchange of gunfire took place that left Duggan dead and several officers injured. Eyewitnesses, however, describe a scene wherein police openly attacked an unarmed Duggan. A bullet lodged in the radio of one officer was initially reported as the trigger that set off Duggan's attack, but was later found, through ballistics testing, to have come from a fellow Tottenham police officer's weapon.
Aaron Roach Bridgeman, a 24-year-old North West London journalist, said that concerned residents marched to the police station in an orderly demonstration-like protest to demand answers and justice. But as rumors spread through the area, Londoners of all races and ages took to the streets to riot in protest of what they called "abuse of power" and "race and class discrimination" by police.
"Stories began floating around the communities that Mark Duggan did not fire a single shot at officers and instead was dragged out of the vehicle and forced to lie on the ground, where he was ultimately shot, still in this same position. Others heard rumors that Duggan had sent Blackberry messages to loved ones earlier in the day saying he was being followed by police and he didn't know why," Bridgeman said in an exclusive interview with the Informer.
For many, said Bridgeman, Duggan's murder was one of a growing number of racially motivated attacks by police officers supported by the 2000 Terrorism Act, which allows police the power to stop and search anyone at any time without due cause.
"The Act's relevance to terrorism and its application has been disproportionately applied to minorities.This was proven by researchers with the Equality and Human Rights Commission who demonstrated that in England and Wales in 2007 and 2008, Black people were stopped and searched 150,000 more times than Whites, and Asian people 52,000 more times than Whites," Duggan said.
Further, the report concluded that in the UK "People from ethnic minorities are up to 42 times more likely than white people to be the target of a counter-terrorism power which allows the stopping and searching of the innocent yet grants them fewer rights than suspected criminals."
Dorcas Humphries, 62, said he saw the Duggan family protest outside the police station and considered it to be peaceful, when he witnessed police assault a young woman in the crowd of about a hundred people. Humphries says that was when things went beserk.
"The police were beating this girl unmercilessly and the crowd was yelling at them to stop. People felt helpless and angered. I was saddened, because it was Brixton and Broadwater Farm all over again," Humphries said.
Bridgeman concurred.
The Brixton area of London imploded in September 1985 when Dorothy Groce - known as Cherry - was paralyzed from the waist down after Inspector Douglas Lovelock shot her through the lung and spine.Officers were searching for her son Michael, now a community worker, on suspicion of armed robbery when they burst into her South London home, neglected to give the standard alert that they were present and then fired on a sleeping Groce. Her shooting sparked a two-day riot, with shops looted and petrol bombs thrown.