London, Surrounding Areas, Brace for Continuing Riots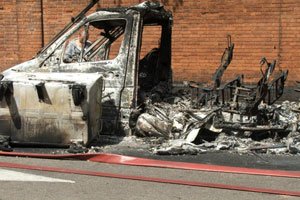 In a local council estate near the recent riots - another riot, known as the 'Broadwater Farm Riot' took place on October 6, 1985. The trouble was sparked by the death of Cynthia Jarrett, an African-Caribbean woman, who died of heart failure after four policemen burst into her home during a raid at the Broadwater Farm housing estate. The Jarrett family met with officers to discuss her death and demanded an inquiry. But by midnight one officer was dead, and 58 policemen and 24 residents had been injured by bottles and petrol bombs, or fires set in cars, shops, and other buildings.
For Humphries, who was living in Brixton at the time of the riots, twenty-five years later, police officer misconduct and abuse in minority communities continues unchallenged.
"I was in Brixton and it was horrible. There was this great swell of emotions that no one could contain. People were tired and frustrated with being handled like criminals when they were living conscious, respectful lives within the law. Then, as now, the young people are leading the charge and the lines between social activism, protest, and recklessness are quickly becoming skewed," Humphries said.
"The relationship between the police and most ethnic minority groups in London and England as a whole is very tense and sensitive. Events such as these that have become repetitive in the UK, have served to ignite this fire that we see," Bridgeman said."What is unclear is how this unrest turned into the level of anger it did, which made many miss the point and the opportunity to stand up against injustice."
Bridgeman said that a generational divide is also at work within the riots, with many older and mature Londoners denouncing the violence and looting, and younger people, insisting that destruction is a necessity.
"There is a sense of embarrassment among those of more mature minds. I have spoken to friends from the area who are disgustedby the chain of events. I was told that these fires have left many people injured, without homes and in some cases jobs," Bridgeman said. "Many of the younger generation, who in some instances have been victimsof police discrimination and maltreatment, do not wish to stop the violence and looting and are actively perpetuatingthe violence," Bridgeman said.
The Independent Police Complaints Commission released information that one person a week on average dies in police custody. Only a matter of months before this incident with Duggan, well-known music figure and pioneer British urban musician Smiley Culture was killed while police were at his home to do a search. The police claimed Smiley went into the kitchen and stabbed himself with one of his own knives.
"There is a deep mistrust between the community and the police. There have been next to no prosecutions of officers who commit crimes against citizens, reaffirming their almost untouchable status. The area will remain angry and continue to demand answers, although the original aims of the protest have been blurred by the extent and misguided nature of this riot," Bridgeman said.