Southeast Resident Receives Lottery Service Award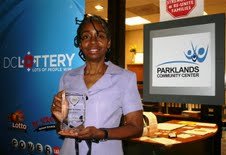 District resident Brenda Jones has been awarded the D.C. Lottery's first Gold Community Service Award. Jones received the honor on Aug. 2 in recognition of more than 30 years of dedicated service to children and families in her Southeast neighborhood.
A native Washingtonian, Jones experienced the uniqueness and joy of growing up in the nation's capital. However, the deaths of two of her brothers to street violence would bring a devastating pain, striking a chord that committed her to work with families affected by substance abuse, child abuse, and community neglect, according to a statement issued by the Lottery.
"Living on the property, [where the Parklands Community Center is located] I contacted the owner and asked if there was a space that I could use to help people who needed it," Jones recalled in the statement. "I'd leave my job and open up the space and just be here. We grew from there."
The Center, which has been a staple in its community for the past 31 years, is now a viable multiservice organization with office space at THEARC, 1901 Mississippi Ave., S.E.
Rebecca Bryant said she nominated Jones because she believes in giving people their praise when they can appreciate it.
"She works tirelessly, giving so much of herself," Bryant said. "I wanted her to know how much her work means to all of us."
Lottery Director Buddy Roogow added that he knows a winner when he sees one.
"And, Brenda Jones is a winner by any measure," he said. "It's a pleasure to celebrate good people who do great things. They help make us all winners."