Goodman League's 135, Los Angeles-based Drew League 134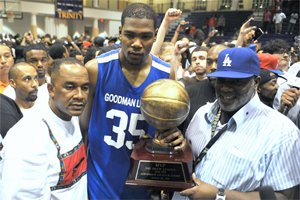 Kevin Durant, the NBA two-time all-star was instrumental in getting the Los Angeles Drew League to come across the USA to face the local Goodman league. Durant who scored 44 points was named game MVP. It was standing room at Trinity College on Sat.Aug.20. At least three hundred basketball fans had to be turned away while the fortunate ones inside the gymnasium enjoyed the atmosphere of an evening of NBA type All-star basketball. When time expired the Goodman league defeated the Drew league 135-134."It just shows how many people really love the game of basketball," said Milwaukee Bucks guard Brandon Jennings, who scored at team-high 38 points in a losing effort for the Drew League. "It was no money involved, no nothing. Just pure showing love to D.C."
"It was exciting, really just for the community and people who can't come to NBA games and see their favorite basketball players play head to head," said Wizards center JaVale McGee, who scored 21 points for the Drew League. "We definitely sacrificed. Everybody put their all into it, to get out here."
"That's something players only dream of. To play with so many great players at one time, it's a blessing man. To play in my home town, too, you can't beat that," Durant said.
{filmgallery=images/stories/goodman-8-21,500,600,bottom}