Slick Substance In Anacostia River Concerns District Officials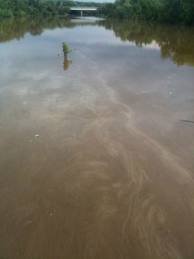 "Anything that poses a threat to the overall health and welfare of our citizens and our wildlife is of great concern to me and deserves immediate attention," he said.
Local and federal agencies have launched a collaborative effort to identify thelick brown substance that is floating on the surface of the river. The initial location of the substance spanned from the 11th Street Bridge to the bridge on New York Ave., but with the tidal movement the substance is shifting back and forth.
"Its a browto-blackish product that moves in waves. It's not affected by the wind. It's affected by the tide and there's no specific odor," said Richard Shaffer, river pilot for the District of Columbia Fire and EMS Department(DCFEMS).
Shaffer estimates that the area affected spans four to six miles.
The U. S. Coast Guard, DCFEMS and Harbor Patrol responded to reports of the spill which occurred around 4 p.m. Aug.15.
Since the area of concern is in the vicinity of the Washington Navy Yard, some of Naval District's Washington resources, including booms and hazmat teams, were used to help in the containment effort.

"FEMS immediat ely surrounded the spill with boom to contain and dissolve it. The Naval District Washington hazmat unit supplied and placed additional boom until all on-scene resources were exhausted," Gray said. "The Metropolitan Police Department's (MPD) Harbor Patrol checked all barges on the river and other possible sources up to the Sousa Bridge to determine the source of the spill, but was not able to identify the source," Gray continued. "The U. Guard has advised us that they will complete their assessment in the morning (Aug. 17) via aerial survey."While there were initial reports that called the incident an oil spill, Coast Guard Lt. Cmdr. Randall Brown said it's not oil.
"This morning we found no significant reports of actual sheening or petroleum based product," Brown said "Nothing has been collected in the booms overnight that would lead us to a petroleum product."

Tests are still being conducted to find identify the substance and an investigation is underway to determine the cause.
"We don't know what caused this. We haven't even developed a strategy for cleanup at this point. We're still determining what it is," said District Department of the Environment (DDOE) Director Christophe Tulou.
The Coast Guard and DCFEMS are working with DDOE, with the Coast Guard arriving shortly after announcement of the spill to make an assessment and to take command of the situation.