State of the Art Woodson High School Building Fosters Hope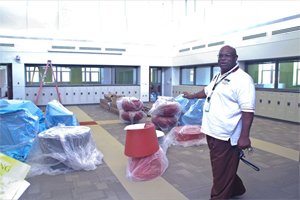 In the Ward 7 section of Washington, D.C., a new high-tech, green H.D. Woodson Senior High School stands as a symbol of hope and promise invested in city's most important asset -- its children. To that end, on Aug. 17, officials cut the ribbon on the 230,000 square-foot state of the art facility at 5500 Eads Street in Northeast.
"We're telling the students we care about you and to do your very best," said Principal Thomas Whittle. "The city is providing the best to help you achieve your goals. When they come here we expect them to learn and to perform."
When classes resume on Aug. 22, more than 800 students will be ushered into the pristine $102 million school, like dignitaries arriving at the sleek United Nations headquarters in New York City. And, they'll have nearly as many amenities as the U.N. Amenities include two gymnasiums, natatorium, auditorium, open designed floor to ceiling glass administrative and classroom spaces, dining room, wireless computer networks, and a track and field area boasting a football stadium that could rival a division one university. That's a big departure from the former school building, an eight-story concrete tower that was first opened in 1972 and touted as the "Tower of Power," but lacked a track and sufficiently operable swimming pool for its athletes.
"I have a track now that I didn't have for three years," said boy's track coach Talib Reid. "We've been in exile for several years but now we're back."
DeMal Brown agrees. Brown ran track at Woodson and graduated from the school last year.
"I'm mad," Brown said laughing. "I still wish I was at this school. The other school had no football field, no track, this school is way better."
The new building, which was a project of Cox Graae + Spack Architects and SHW Group, incorporates an environmental and energy efficient design, and will seek Leadership in Energy and Environmental Design (LEED) Gold certification. LEED Gold is the highest certification level by the United States Green Building Council (USGBC).
Buildings or communities that are LEED certified meet green standards including energy savings, water efficiency, carbon emissions reduction, and improved indoor environmental quality. Rain water harvesting for reuse in plumbing, and roof gardens among the green features of the three-story structure.
"This is the only green building in the school district," said Whittle.
Just as the building seeks to secure the highest standard in environmental certification, the rigorous Science, Technology, Engineering, Mathematics (STEM) project based curriculum is also designed to garner the highest academic performance from students. Whittle described the learning process as the hands on.
"Project based learning is not just to have teachers talk but to develop projects around learning," Whittle said. "When students produce projects the skill set they learn helps them perform at a higher level. We want curriculum that is rich, innovative and creative."
Classroom and lab spaces feature cutting edge technologies such as smart board and students will have access to laptop computer.
Throughout history there have been several studies which link environment and surroundings with behavior. Jean Piaget, a renowned philosopher from Switzerland for example, suggested children's growth stems from their surroundings and the people and things they interact with in that environment. Whittle said the students are expected to perform well in this environment.