A Conversation about Marcus Garvey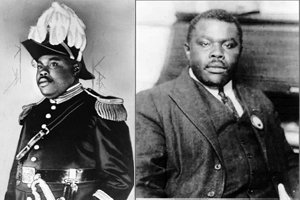 Marcus Mosiah Garvey, Jamaica's first national hero, was born in St. Ann's Bay, Jamaica on August 17, 1887. The publisher, orator, journalist and businessman was an unavowed black nationalist and Pan African who built the largest mass movement of black people - the United Negro Improvement Association -- in history. He called for black unity globally and an end to colonialism. Garvey was jailed in 1925 after being convicted of mail fraud (related to the sale of stock in the Black Star Line), but his sentence was reduced and he was deported to Jamaica two years later. Garvey eventually moved to London, England, where he died in 1940.
The Informer talked with Geoffrey Philp, a Jamaican writer, poet and publisher last week. He started a petition earlier this year which he intends to send to President Barack Obama. The petition seeks Garvey's exoneration for the false charges leveled against him.
Philp, 53, said as Garvey's 124th birthday approaches, his message of black pride, financial independence, and the fight against colonialism in all its forms, takes on added currency.
"Why is Garvey important?" Philp asked. "(Caribbean author George) Lamming once said until people in the Caribbean and Americas recognize the contributions of Haiti, we will never be free of the effects of colonial and neo-colonialism. In the same way, New World Africans and Africans on the continent will not be free until we honor and recognize Garvey for setting our minds free."
Philp said Garvey, who was an icon for his generation and generations since, spent his life working towards an intellectual and spiritual freedom for black people. Philp used a screenwriting analogy to describe Garvey.
"In 'Reading the Way of the Screenwriter', the author says that on Page One of the story you're telling, the hero is under a spell, doesn't know he is under the spell, and the story moves the heroine from waking up from that spell," Philp said. "The break in the spell happens at the climax and the hero recognizes who he is and walks towards life or death."
"We have been put under this spell by slavery and colonialism and people like Kamau Brathwaite, Walter Rodney, Marley, and Garvey have been working a kind of magic to get us to wake up," he explained. "We're drifting through life looking at life through the eyes of the oppressor."
That spell manifests itself in often destructive ways, such as the violence black people inflict on each other, black and brown people bleaching their skin, straightening their hair, and despite black America having the buying power of approximately $913 billion, the vast majority of that money is spent with businesses outside of the black community.
Garvey espoused a fairly comprehensive economic plan for the development of industries and private businesses, all in black hands. Following World War I in 1918, conditions afflicting black people in the U.S. including segregation, violence against blacks and the southern migration north, provided the ground in which the Garveyite philosophy flourished. Garvey's economic line of attack, publicized in his paper, the Negro World, pulled in large numbers of new adherents. Garvey organized several business enterprises, including the Black Star Line, a fleet of ships, a chain of grocery stores, a restaurant, the Negro Factories Corporation, millinery, and a publishing house.